We saw this Comet running A/FX at the California Hot Rod Reunion Oct. 19-21, 2012 at Famoso Raceway near Bakersfield.

Roy Pool is the second owner of the Comet and has been racing it since 1967. He started racing in Stock Eliminator and raced in that class until the early 70's when he made the car streetable and drove it as his daily driver until 1986. In 1986 he parked the car and it stayed retired until 1990 when he blew it apart – he narrowed the rear-end, put in new suspension and went bracket racing. In 2002 he started racing A/FX. He also races the ANRA series in D Gas or Hot Rod class.
The car has a 418 ci Windsor small block, SCAT stroker crank with a 4.100" stroke. In A/FX he runs a dial-in of 10.50 . Typically the Comet runs 10.30s and 10.40s with a best time of 10.33 at 129.56 mph. At the 2011 Hot Rod Reunion Roy qualified No. 7, but at the 2012 Reunion a broken fuel pump prevented him from qualifying.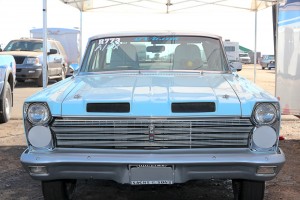 The front license plate holder on Roy's Comet reads "Sachs & Sons". Sachs & Sons sponsored Jack Chrisman's 1964 A/FX Comet which sported a blown 427 on nitro.
This is one nice Comet and we hope to see it out on the track next season.