The Morongo Basin Car Club – Road Runners held its 21st Annual Charity Car Show on September 24, 2016 at the Town Center Mall in Yucca Valley, CA.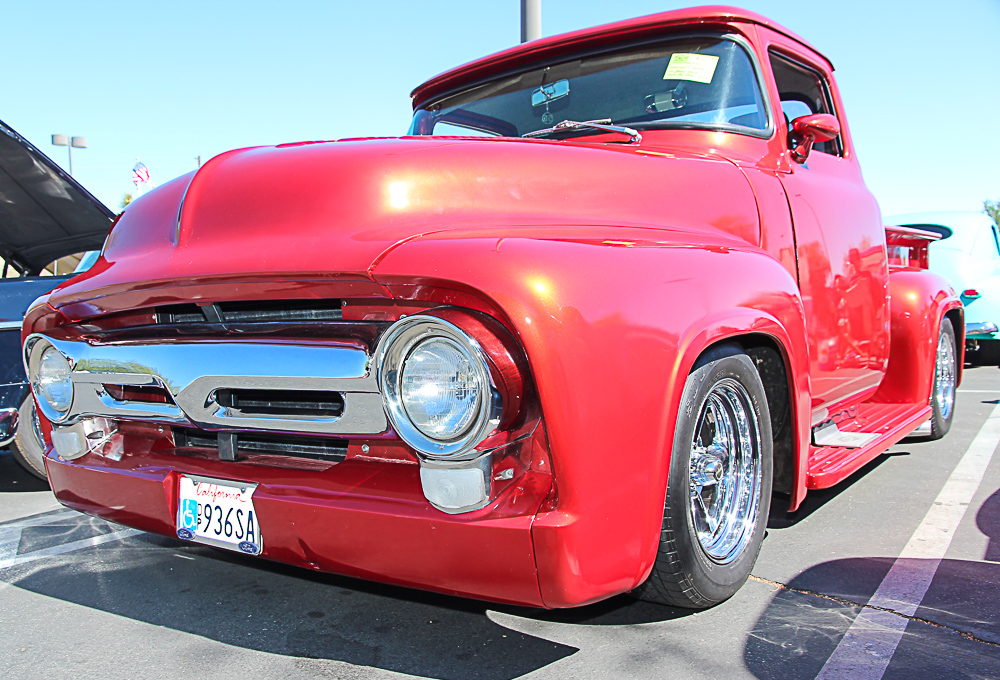 The Big Morongo Basin Car Club, the Road Runners' 21st Annual Charity Car show epitomized the trend in cars shows today.  It was inclusive – everybody was welcome -whether you came in a hot rod, a classic, a motorcycle, a rat rod, a modern vehicle, a bicycle, a roadster, a pick-up truck or an 18 wheeler – whether it was a Ford, a Chevy, a Dodge, a Cobra, a Corvette, a Plymouth – your attendance was appreciated. This atmosphere made for a very fun car show for both spectators and participants.  Below are some of the nice cars at the show.
This slideshow requires JavaScript.
Some of the kids posed next to their favorite car.  Below is Isaac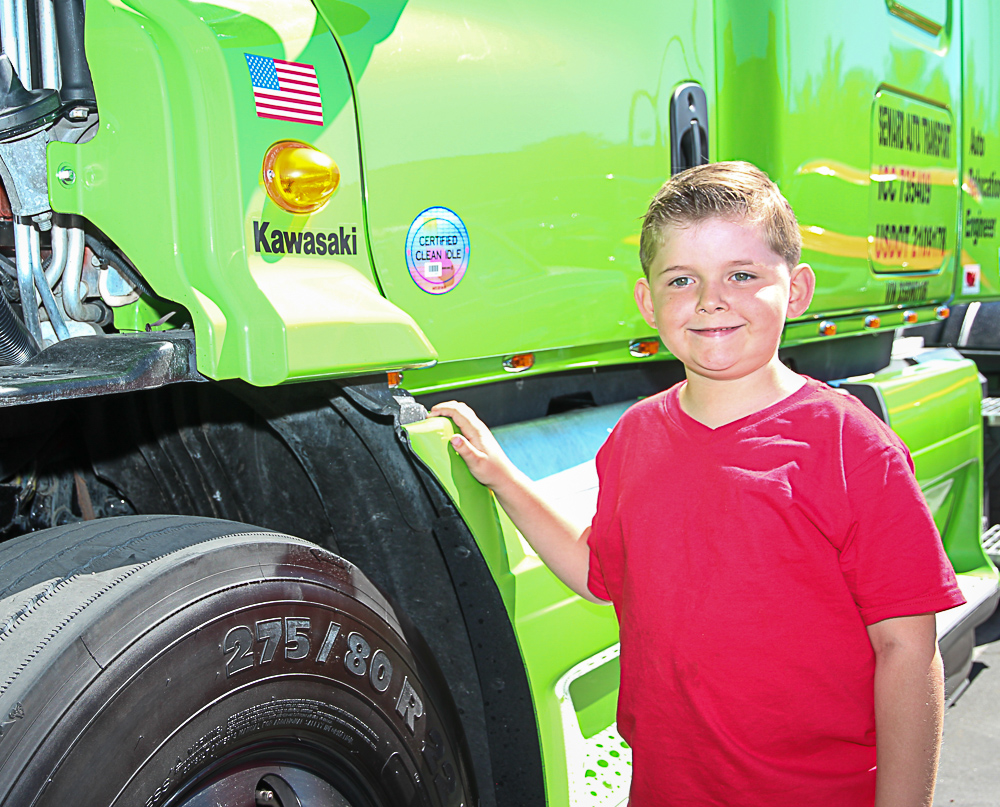 and this is Maddie.  Two kids with excellent taste.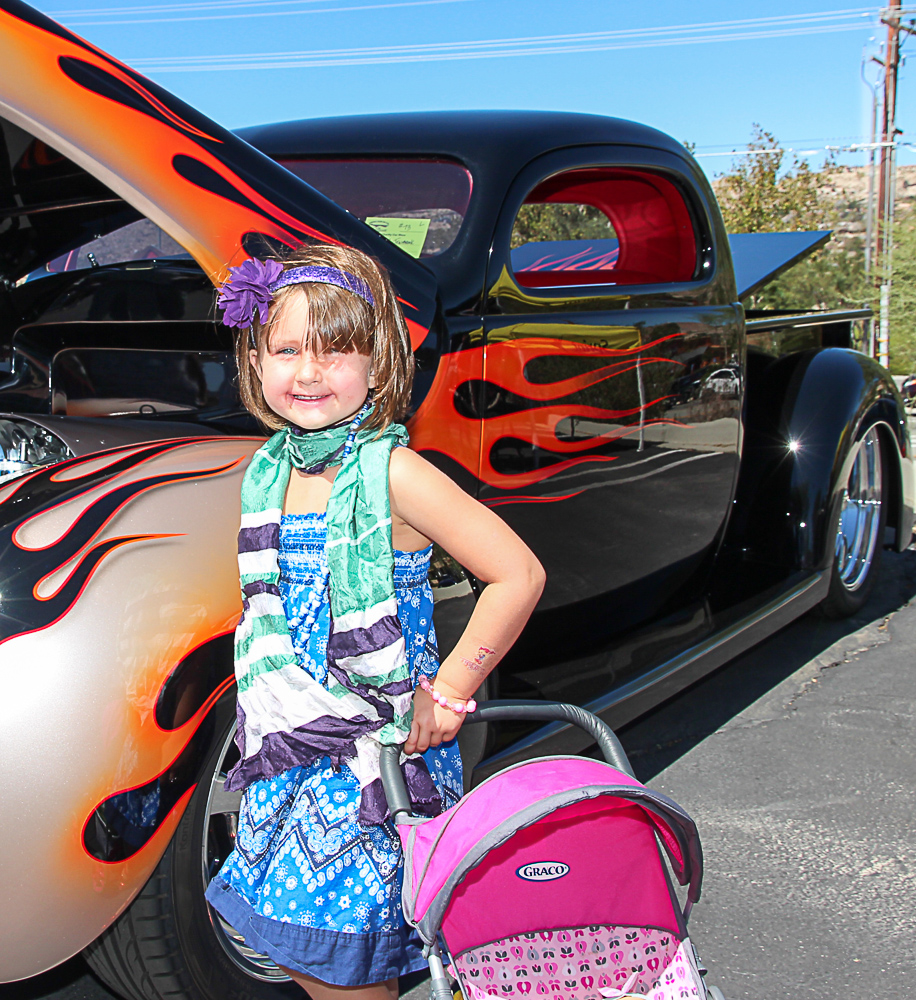 The proceeds from the show went to Soldiers Organized Services (SOS) and Center for Healthy Generations.  SOS was formed by Erica Stone to provide transportation to and from the 29 Palms Marine Base and the Palm Springs and Ontario Airports at no charge to active duty service members and their families.  The Center for Healthy Generations, located in Yucca Valley, provides all generations of the community with exercise, activities and information. The Center offers a wide variety of activities and classes for all ages: including classes in land based-exercise, aquatics, computer, dog training, bridge, knitting, and water color.  Both of these charities provide valuable services to the local community.
Saturday was Erica Stone's birthday and she posed with Norm Correll, President of the Morongo Basin Car Club, while the DJ sang happy birthday to her.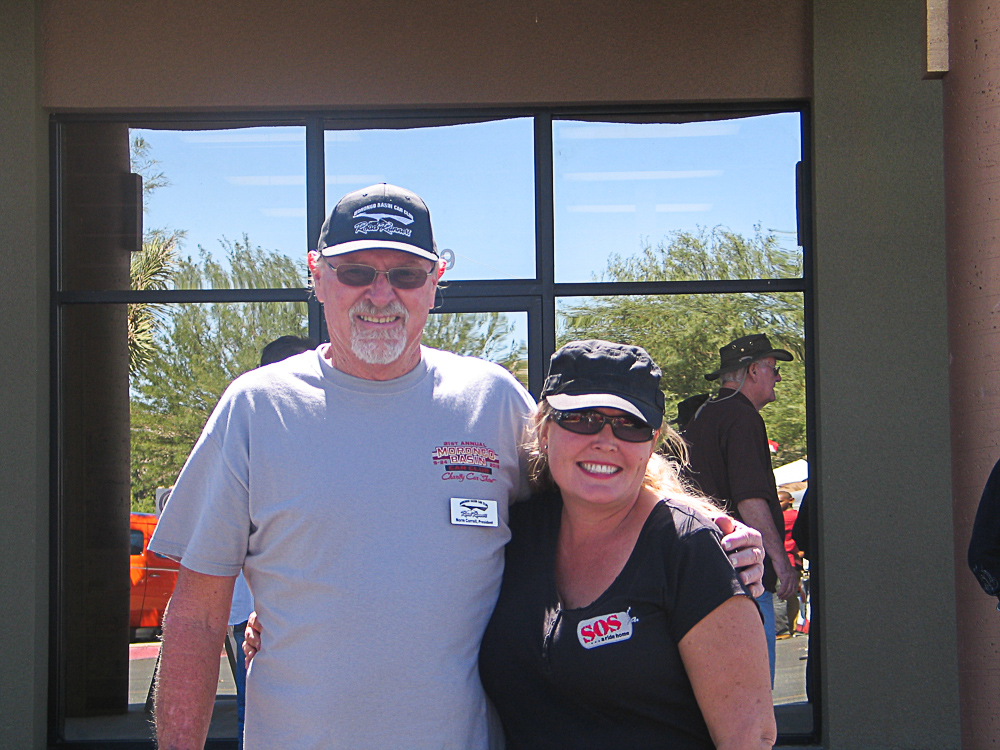 The gates opened at 7:00 a.m. and the show started at 9:00 a.m. and during that time the Yucca Valley Fire Department served breakfast. The award ceremonies got underway at about 2:30 p.m. and by 3:00 p.m. it was over. The weather couldn't have been better – a typical high-desert fall day – temperature about 85° with plenty of sunshine and bright blue sky.
The show was well attended with about 125 vehicles.  There were several vendors selling everything from hats to nostalgic signs.  The Marines had a booth as did CERT (Community Emergency Response Team).  The High Desert Marines were raffling off a high point 9mm rifle and an M1 rifle to benefit veterans.   There was also some good food available – hot dogs, pulled pork sandwiches, kettle corn….   The California Highway Patrol had a booth and Officer Chipper did a meet and greet with the crowd.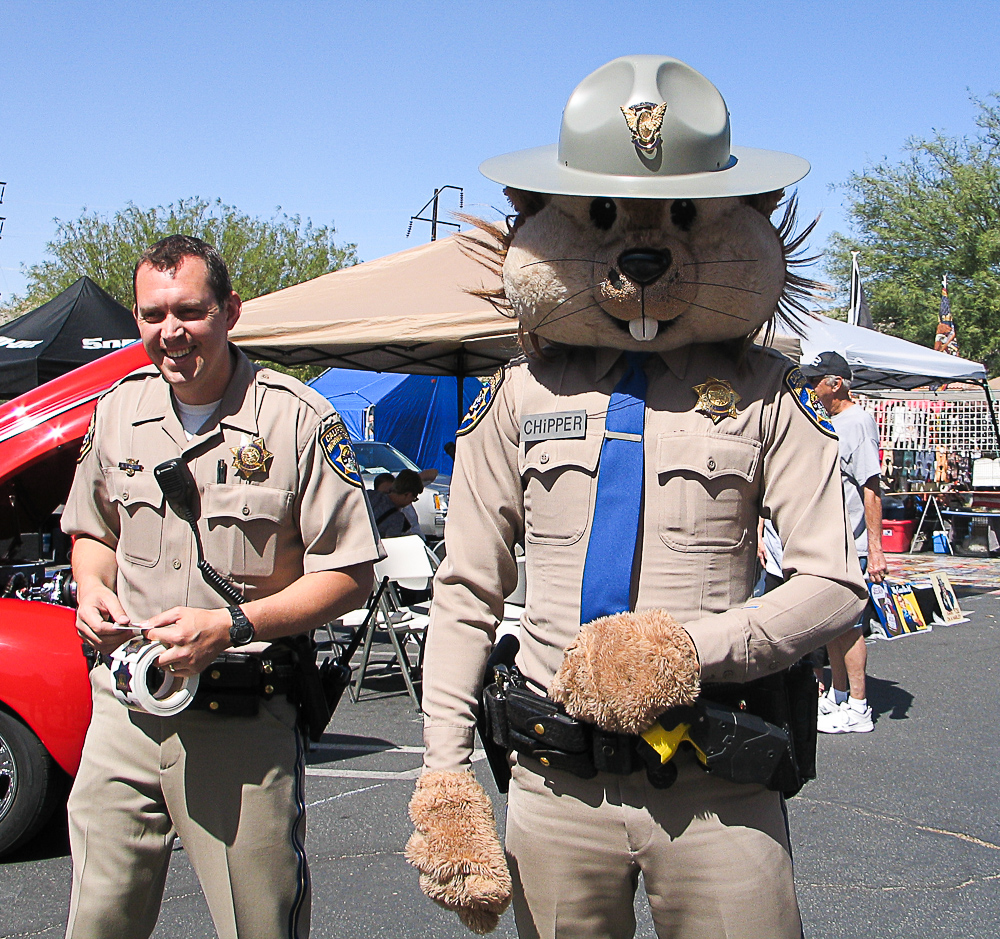 All of the show vehicles came with an owner who was more than happy to spend time talking about his/her pride and joy and every car was one that you wanted to stop and look at.  Several one of a kind creations were on display:  a '64 Plymouth Valiant pick-up truck, a vehicle Plymouth never made, a stretched and customized bicycle, a big rig tractor with custom paint – Kawasaki Green, and a cut-down dodge truck painted army green.
This slideshow requires JavaScript.
Raffle tickets were drawn all day and a lot of prizes were given away.  There was also a 50/50 drawing that provided a BIG payout.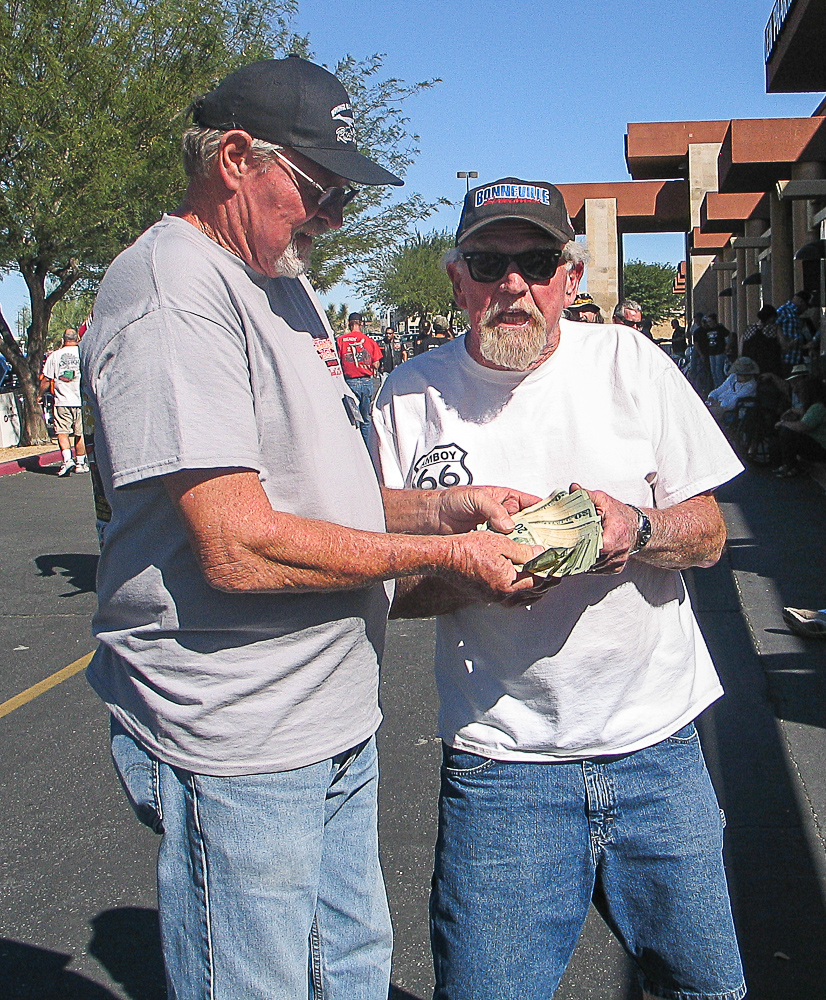 Thirty trophies were given out including: Mayor's' Choice, People's Choice, Best Rat Rod, Best Motorcycle and  Best of Show.  Additionally trophies were given to 20 of the most outstanding vehicles at the show.  The Best of Show trophy went to Dave and Fran Jones of Lucerne Valley for their '56 Nomad.  This red and white Nomad, shown below, was truly outstanding and deserved this title.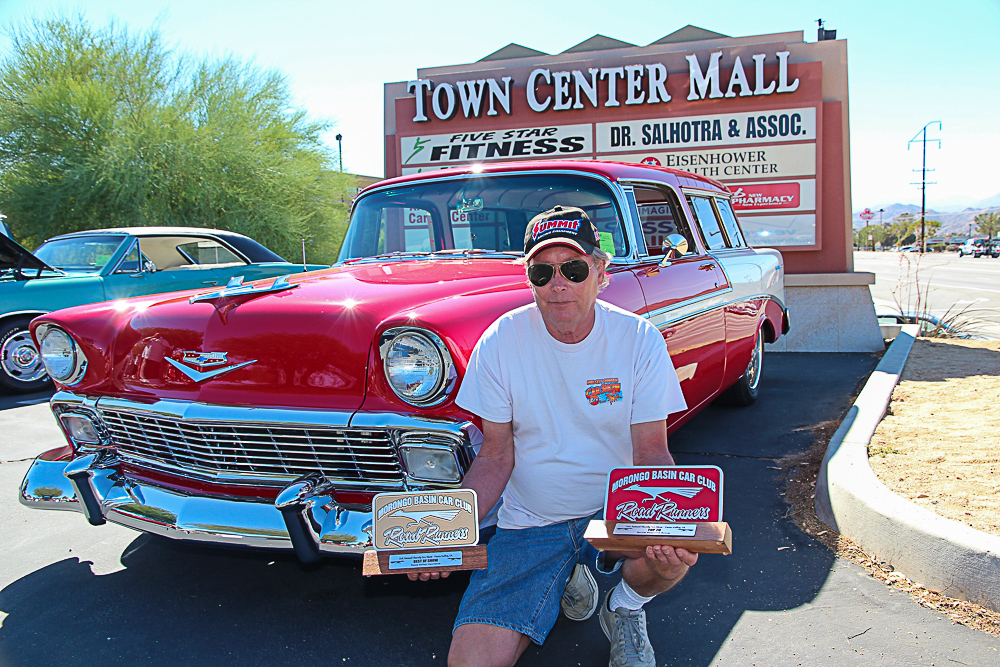 Below are photos of some of the award winners.  Photos of all the award winners can be seen on our SmugMug site and are available for purchase.

This slideshow requires JavaScript.
There were a lot of fine cars at the show and not all are shown here.  More can be seen on our SmugMug site.
This slideshow requires JavaScript.
More photos from the awards ceremony are on our SmugMug site as well as all the photos shown above and more.  All photos are available for purchase.
It's over for this year and to the members of the Morongo Basin Car Club we say GOOD JOB!  We are looking forward to the 22nd Annual show and will put the date on our calendar when it is announced.
This slideshow requires JavaScript.