The California Hot Rod Reunion is truly a national and international event.  Not only did racers come from all of the western states, but New York, Tennessee, Michigan, Wisconsin and Kansas as well.  Several racers were from Canada, three or four from England and one from Scotland.
Quite a lot went on at the Reunion – besides the racing, of course.  Saturday afternoon NE II driver Tom Mardis and Sonya Rosas got married in the winners' circle – Chaplin Matt performed the ceremony.  The ceremony was delayed somewhat to allow groomsman, Bobby Cottrell, to finish his 7.0 Pro run.  Sonya said that the 2015 March Meet brought the couple together.  Seems fitting the Reunion should host the wedding.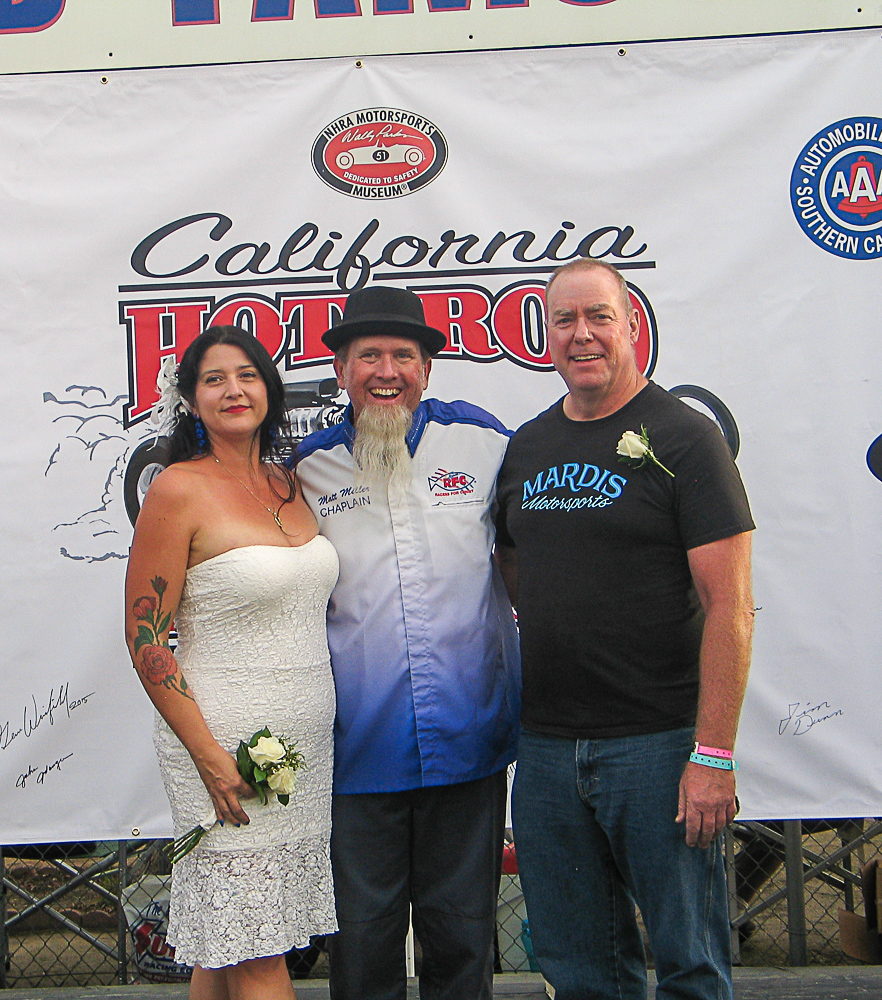 Saturday night at the end of Funny Car racing the family and crew of War Horse driver Roger Garten held a missing man fire-up.  Garten passed away in June from injuries sustained in an on-track accident at Famoso.  A fuel altered driven by Garten in the '70's was pushed to the start line where the War Horse crew fired it up.  The crew stood back from the car and let it run for about 60 seconds before shutting it down.  It was a fitting tribute to Roger Garten and War Horse.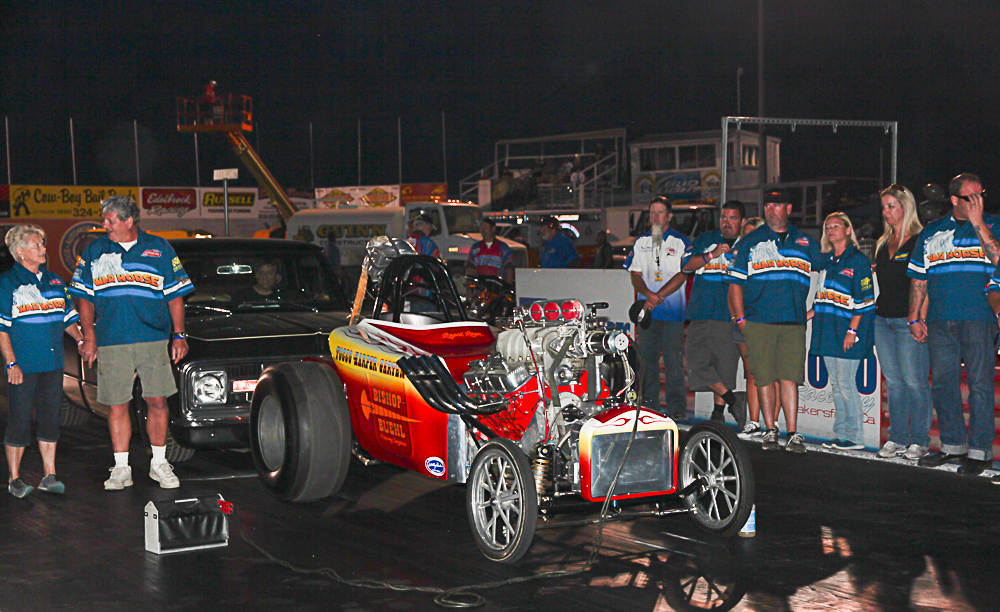 Sunday morning Braylen posed for photos in front of Funny Car Crop Duster.  While Braylen was suited up and ready to race, he spent some time collecting autographs from his fans.  Although only three years old now, plans are for Braylen to be behind the butterflies of the Crop Duster in about 15 years.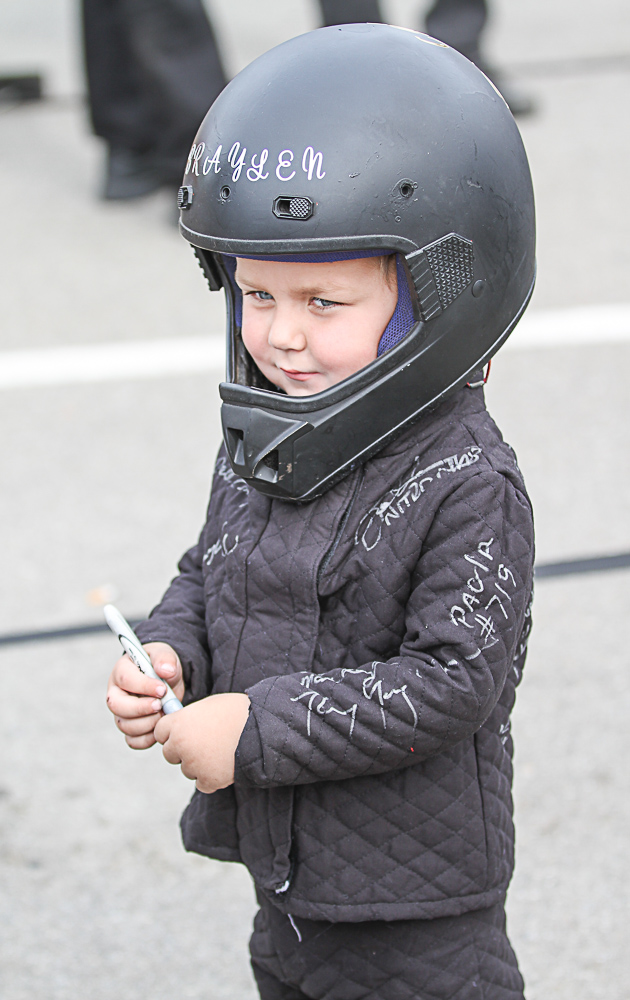 Tradition held, and after the Sunday morning ceremonies Red Greth's Speed Sport roadster opened the first round of Funny Car racing.  The Speed Sport roadster was given a push start, ran up the Budweiser lane, turned and made a pass down the Auto Club lane. The Speed Sport roadster, a '27 T, is known as "Old Noisy" because of the noise coming out of its eight tailpipes.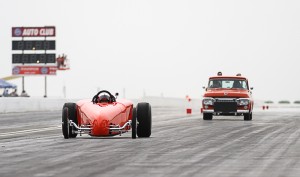 Drag racing is, of course, a family affair as demonstrated in the Fuel Altered class. Pure Hell, was driven by Brian Hope while Rat Trap was piloted by his Dad, Ron Hope.  On Sunday, the two met in the Chicago Style shoot-out.  Brian demonstrated he had a good teacher by beating his Dad to the finish line.
This slideshow requires JavaScript.
Hot rods, customs, rat rods, classics and old dragsters filled The Grove on Saturday.  Sunday saw fewer cars in The Grove, but there was still plenty to see.
This slideshow requires JavaScript.
As always, Cacklefest was held on Saturday night.  This year more than 70 restored and/or re-pop nitro burning dragsters participated.  Cacklefest is appropriately named.  On Saturday the push cars were lined up and ready to go.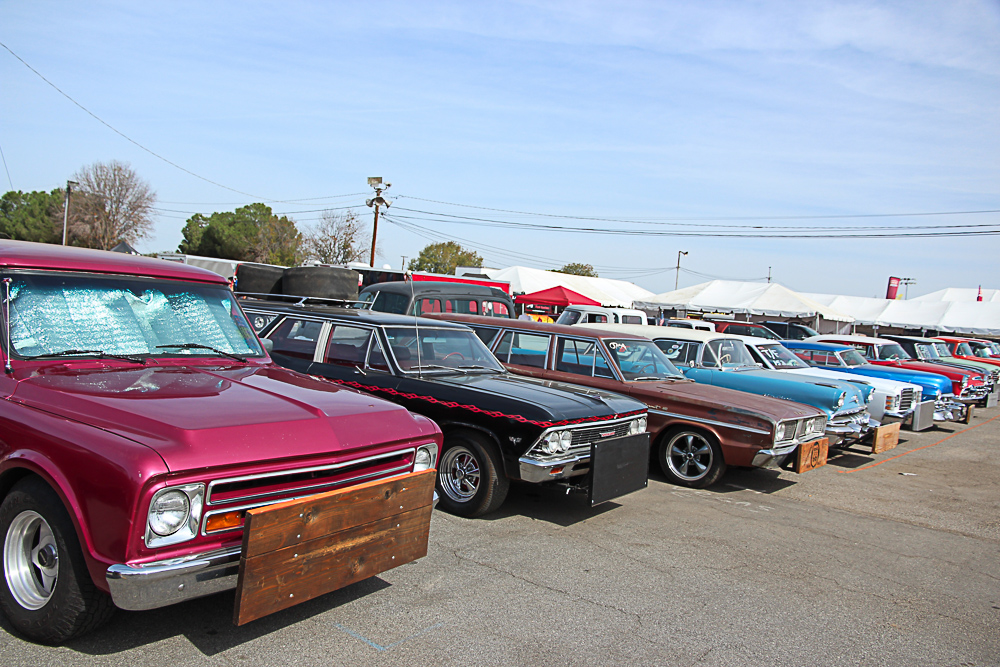 Exhibition cars ran all week-end so there was never a lull in the action.  Collin Millar brought his Anglia, The Flyin Fyfer, from Scotland to run exhibition – and according to the tower announcer – it took 7 weeks on a ship.  Jerry Lee covered the quarter mile with the front wheels of his Model T Flatbed lifted.  Fighting Irish the Funny Car ran side-by-side against Fighting Irish the Top Fuel car (the Funny Car won). Two altereds, Iron Maiden and High Heaven, ran.  And, of course, racing ended Saturday and Sunday when jet car Black Pearl made the final pass of the day.
This slideshow requires JavaScript.
And now for the final race results:
The first pair to run a final round were Howard Anderson and Gary Renerio in AA/Supercharged.  Anderson was in a '38 Chevy Coupe and Reinero drove in a '48 Austin.  Anderson got off the line first with a reaction time of .078.  Reinero was right behind Anderson with a reaction time of .084.  Although the two had near identical speeds, Anderson at 208.88 to Reinero's 208.33, Anderson got to the end first with an ET of 6.552 to Reinero'ss 6.723.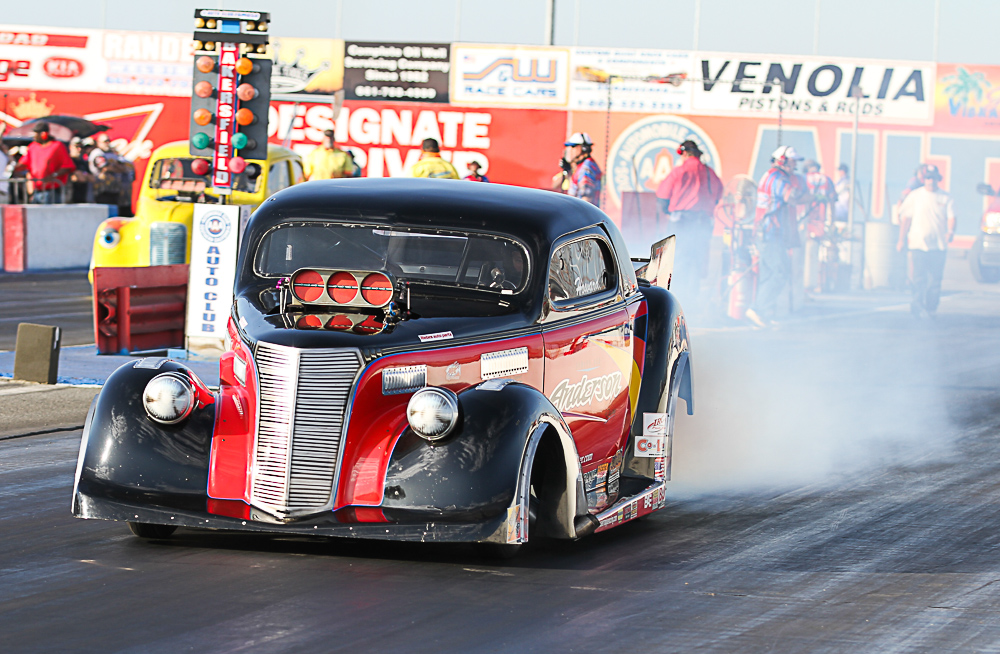 Jr. Fuel cars were next up with Scott Parks and Don Enriquez sitting at the line.  Enriquez ran on a 7.15 dial-in and Parks on a 7.02 dial-in.  Although Enriquez had a better reaction time, .034 to Park's .083, Parks crossed the finish line first.  Parks ran an a ET of 6.837 at 191.24 mph and Enriquez ran an ET of 7.192 at 185.54 miles per hour.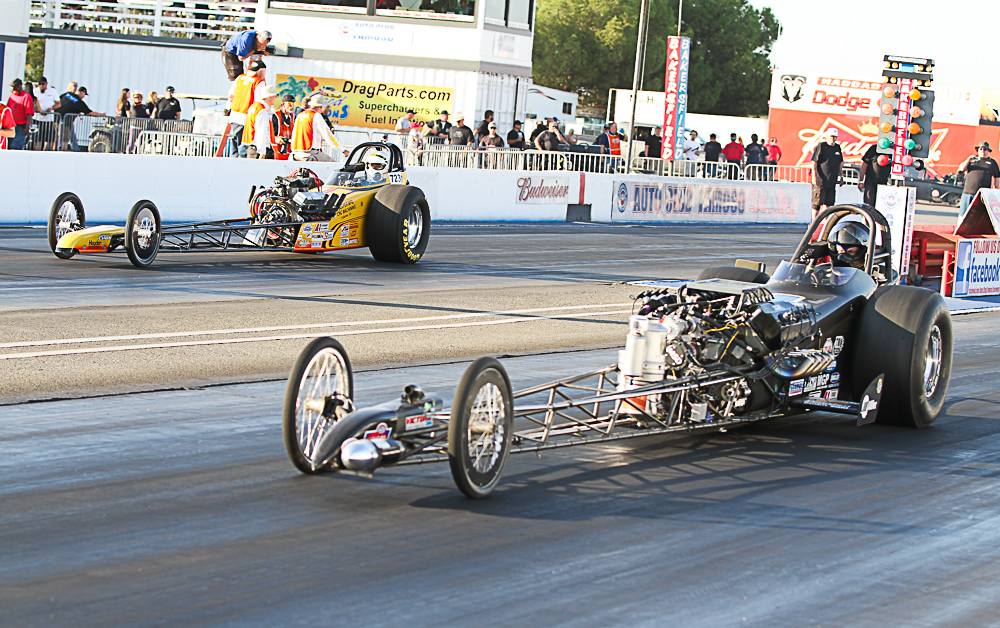 After Jr. Fuel it was the Pro Mods turn at the line.  Andrew Berry the No. 1 qualifier in a '68 Camaro met No. 3 qualifier Rob Moore in a '60 Chevy Impala. This was quite a contest ending with Berry running .033 of a second quicker.  Berry had an ET of 6.013 and Moore ran an ET of 6.046.  Berry took the win traveling 242.76 mph to Moore's 239.36.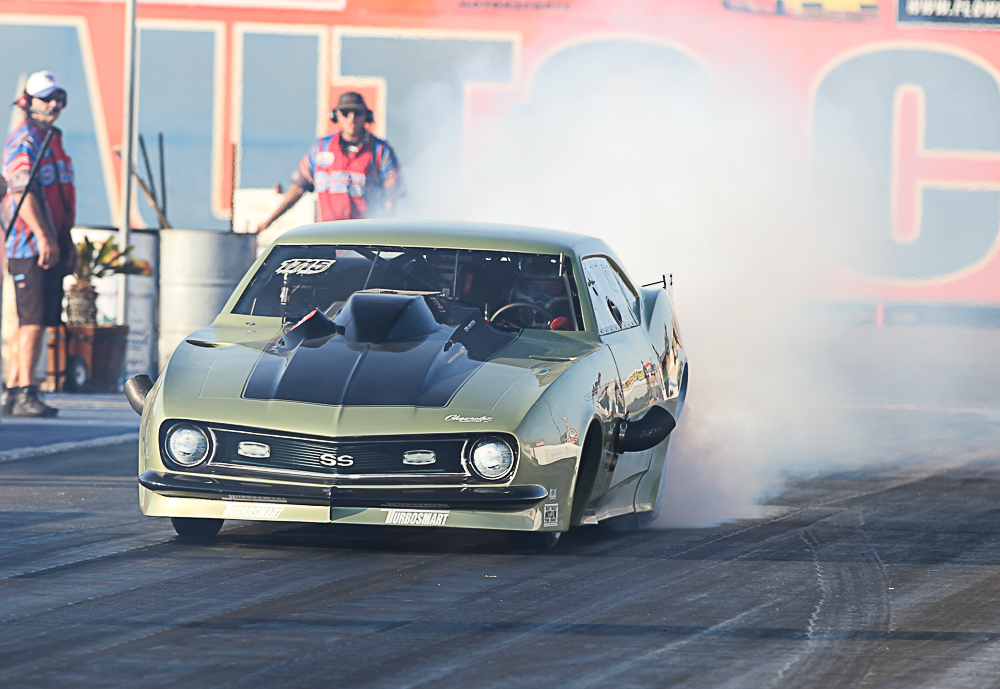 The A/FX finals put two Fords side-by-side.  Steve Whitemore in a 427 ci '69 Mustang and David Franklin in Old Yeller a 429 ci Gallaxie.  Franklin broke out running a 9.225 ET on a 9.25 dial-in letting Whitemore have the win.  Whitemore ran a 10.307 on a 10.25 dial-in at 129.47 mph.
Next up were the Fuel Altereds.  This was the final run of the final race for Pure Hell.  Pure Hell made a valiant effort but couldn't out run the Mike Sullivan Fiat. Jeremy Sullivan ran an ET of 6.20.  Brian Hope ran an ET of 6.37.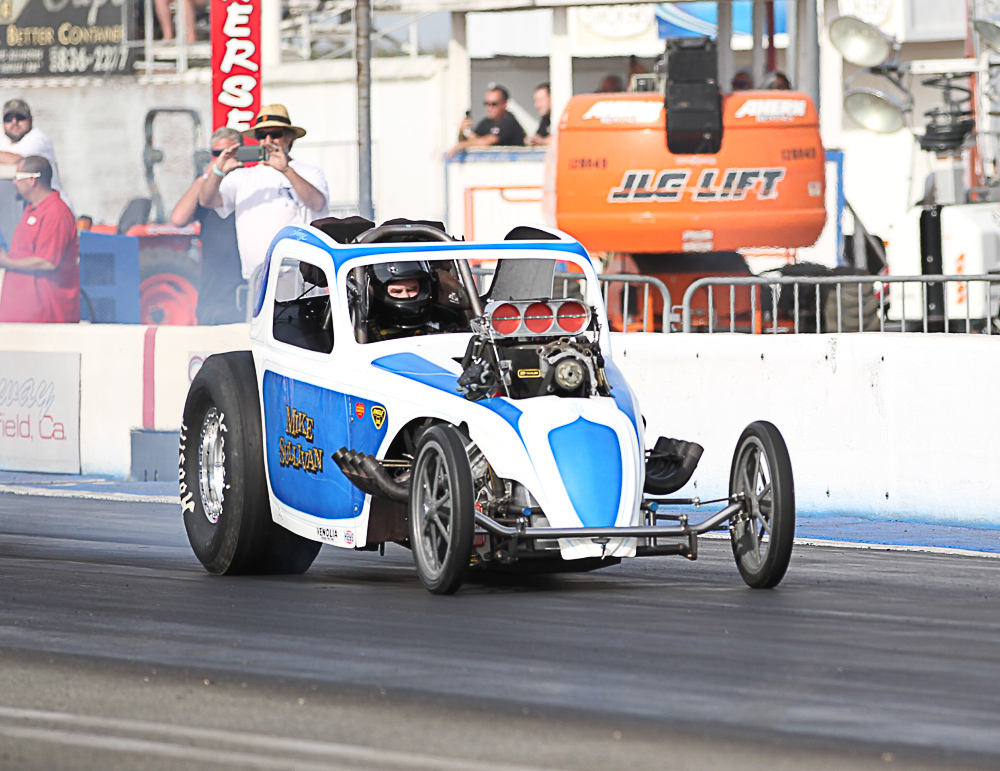 Pure Hell in the final run of its final race.

The A Gas finals found Steve 'Flattop' Faller in the Auto Club lane and Brendon Frye in the Budweiser lane.  Flattop was too quick leaving the line and turned the light red while Frey broke out running an ET of 7.569 on a 7.6 index.  Frye took the win.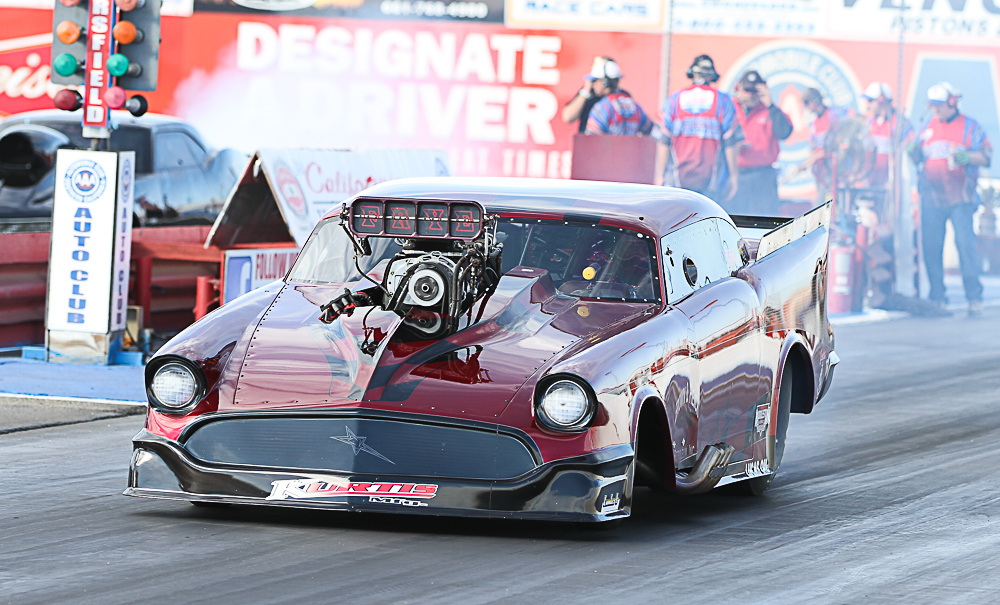 DeWayne Sanders and Billy McDevitt were the two finalists in 7.0 Pro.  Sanders took the win on McDevitt's red-light. Sanders ran an ET of 7.36 on  a 7.00 index at 136.91 mph.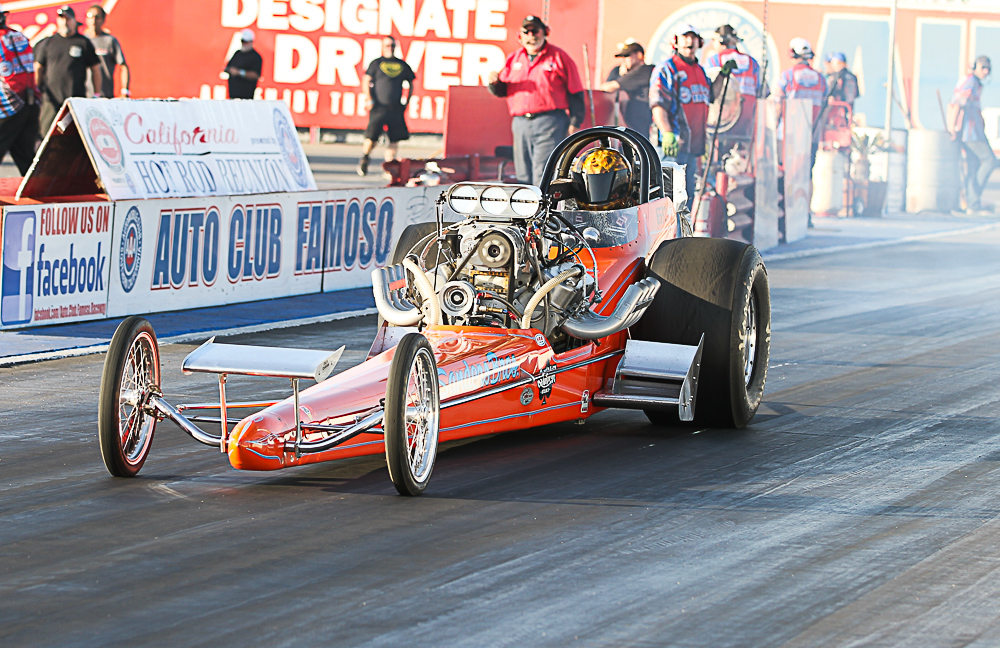 In A Fuel the win light went to Drew Austin. Bobby Cottrell was quicker off the line with a .008 reaction time to Austin's .045.  But Austin made up the time with an ET of 6.24 to Cottrell's 6.370.  Austin ran 219.08 while Cottrell ran 215.82 mph.
NE I is a 7.6 index class.  Dale Shubert and Kenny Upton met at the line.  Shubert left the line with a .032 reaction time and Upton followed with a .041.  Upton broke out with an ET of 7.566 and Shubert broke out with a 7.570 ET.  Shubert broke out the least to win the race.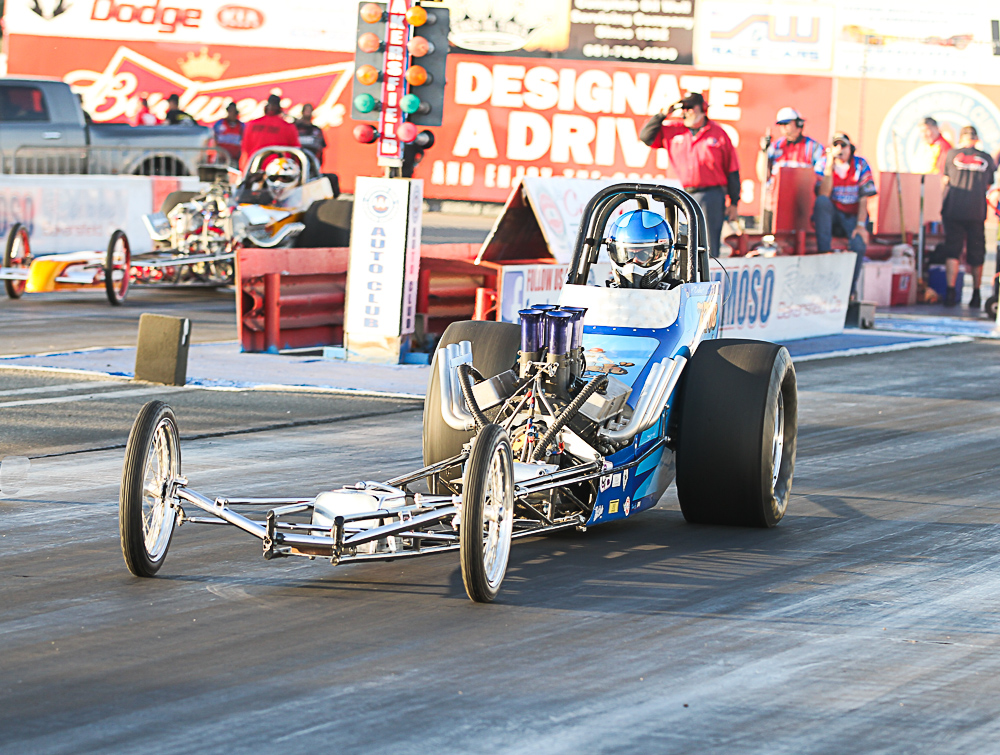 Then the Funny Cars took to the lanes.  Ryan Hodgson, the No. 1 qualifier, from Edmonton, Alberta Canada, met Jason Rupert the No. 2 qualifier from Yorba Linda, CA.  Rupert left the line first but Hodgson ran quicker, ET 5.722, and faster, 255.63 mph.  Rupert ran an ET of 5.817 at 249.21 mph.  Ryan Hodgson took home the trophy.  Hodgson turned in the top speed of the week-end with 262.28 mph.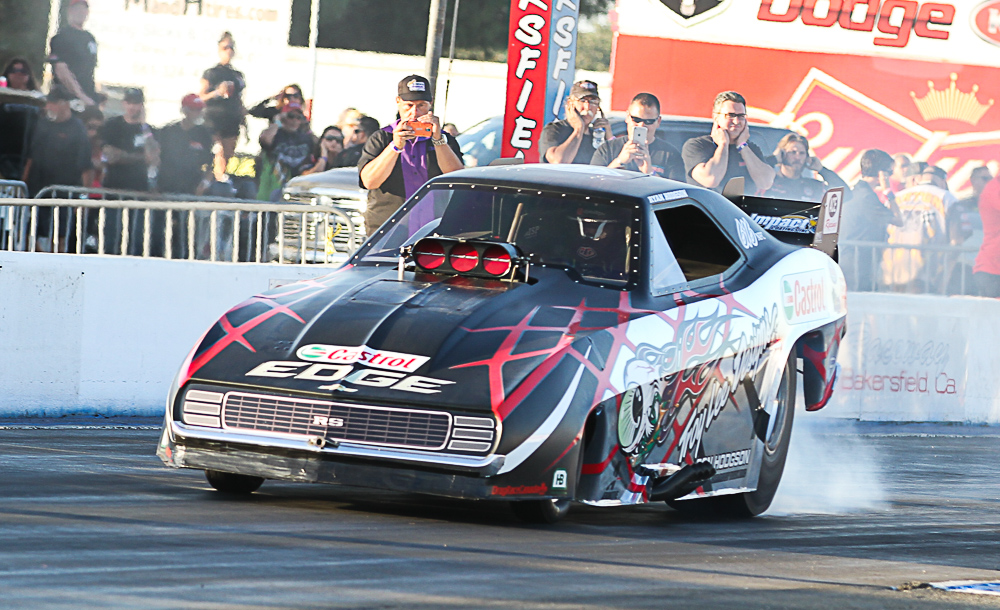 Top Fuel this year offered a change.  Tony Bartone, the Heritage Series points winner and the Reunion Top Fuel winner last year, fell to Denver Schutz in the semi's. Bartone was slow off the line with a reaction time of .216.  Schutz took advantage to put Bartone on the trailer.  The finals pitted Schutz in the Raisin Express 3 against Bill Dunlap in High Speed. The Raisin Express 3 left the line first, but Top Speed outran it and crossed the finish line first.  Dunlap ran an ET of 5.695 at 255.58 mph and Schutz ran an ET of 5.838 at 252.05 mph.  This week-end Dunlap had the fastest speed in Top Fuel of 260.46. Tony Bartone set the quickest time of the week-end with an ET of 5.569.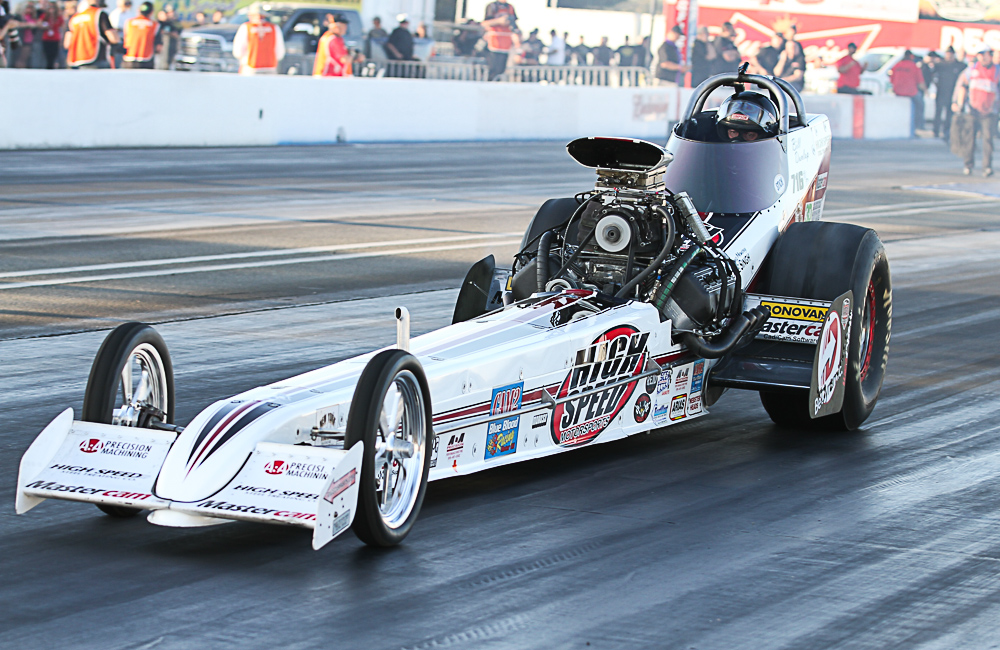 The Black Pearl jet car made the final pass of the week-end and the 24th California Hot Rod Reunion was over.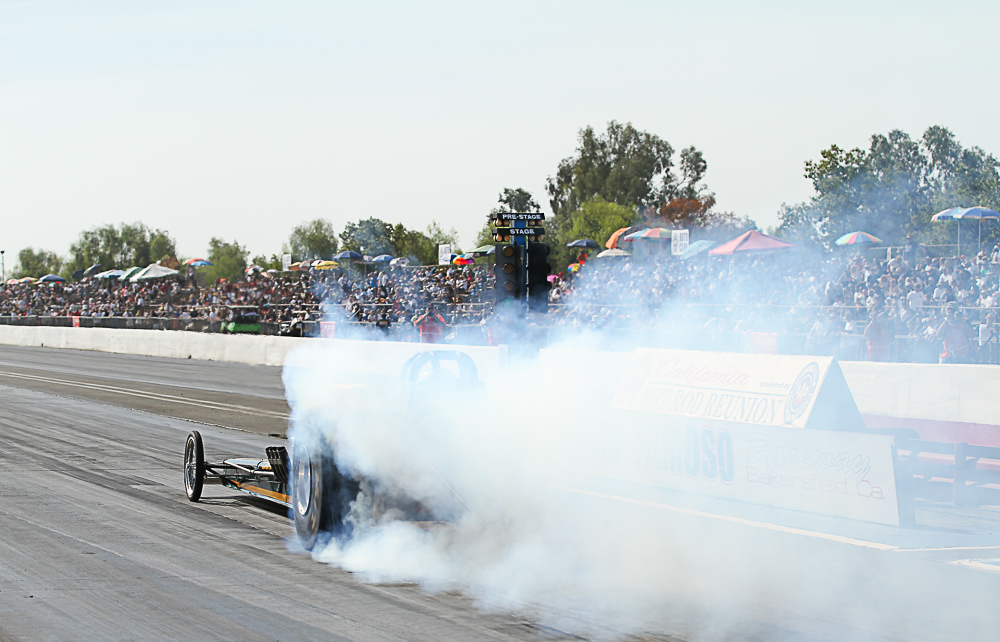 While Steve Gibbs is a master at putting on drag racing events, like Hot Rod Reunion, and coming up with nifty ideas, like Cacklefest, seeing into the future is not one of his strong points – thankfully so.  Gibb's prophecy at the 1st Reunion; "we're only going to do this once" was way short of the mark, and the 25th California Hot Rod Reunion will be at Famoso Raceway on October 21-23, 2016.
SUNDAY RACE RECAP
Racing finished about 5:30 p.m. today.  In the Top Fuel finals Bill Dunlap in High Speed met Denver Schutz in Raisin Express.  The winner was Bill Dunlap in Top Speed with an ET of 5.695 at 255.58 mph.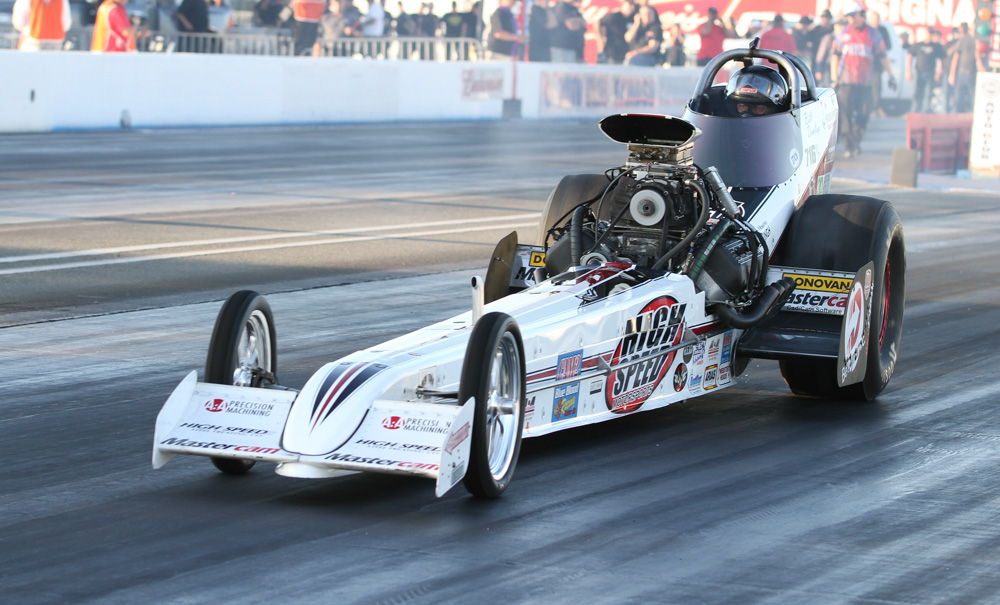 In the Funny Car finals the No. 1 qualifier Ryan Hodgson met the No. 2 qualifier Jason Rupert at the line.  Hodgson ran the quickest and fastest with an ET of 5.722 at 255.63 mph to take the win.

The fuel altered class winner was Jeremy Sullivan in the Mike Sullivan Fiat.  In the final round Sullivan met Brian Hope in Pure Hell.  Sullivan ran an ET of 6.209 at 191.24 mph to take the win.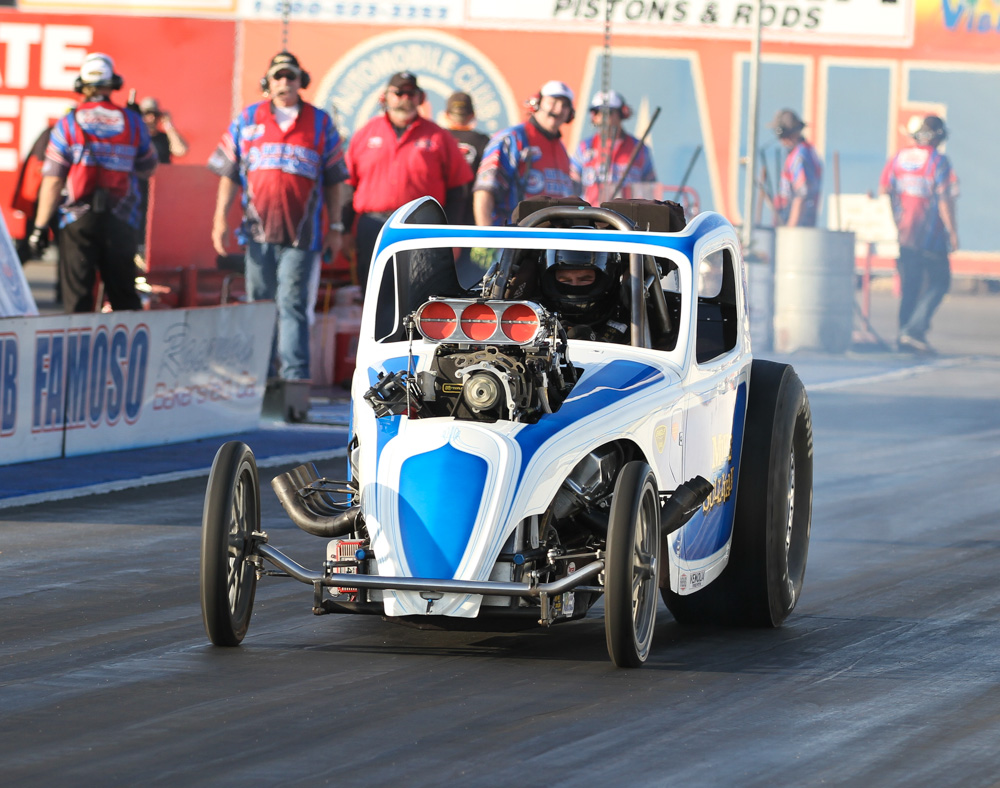 We will have all the race results and more photos in an article posted Monday evening.
SATURDAY RACE RECAP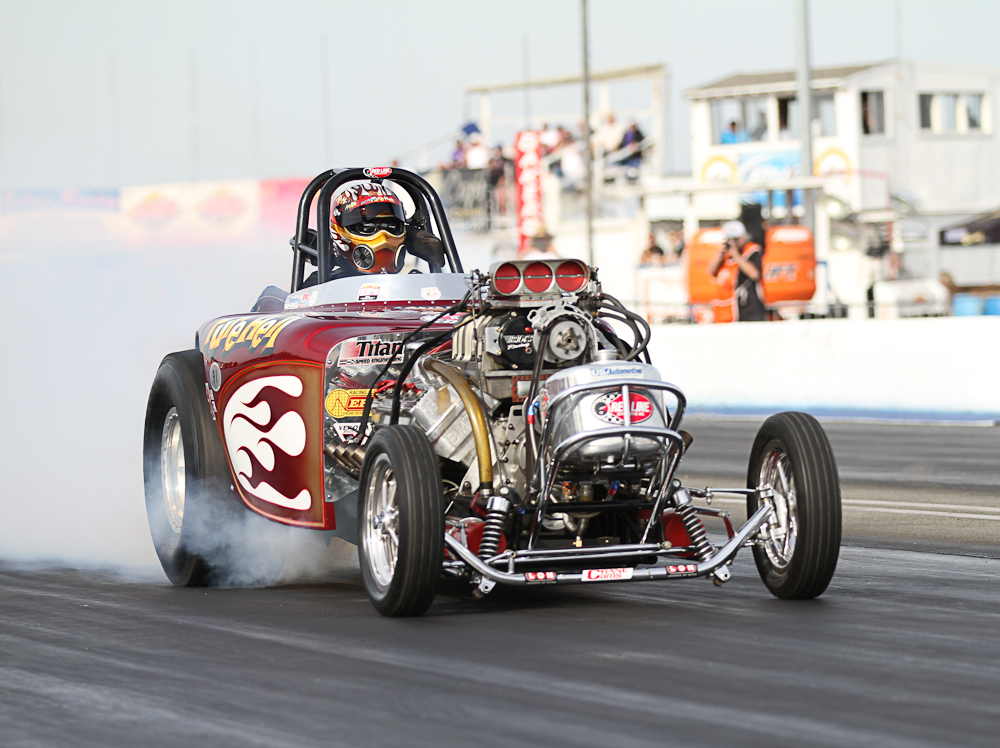 Today the Fuel Altereds put on their show.  Hot Rod Reunion is the finale of the Pure Hell farewell tour.
Funny Cars ran the 32 car field down to 16 and then to 8 today.  In the 16 car field.
Ryan Hodgson, the No. 1 qualifier met Rian Kono, the No. 16 qualifier; James Day in Pedaler met Richard Townsend in Nitroholic; John Hale met Matt Bynum in Cecil Matthews new funny car;  Mr. Explosive Mark Sanders met Nathan Sitko.  Jason Rupert, the No. 2 qualifier had a bye;  Dan Horan in his Patriot Mustang met Cory Lee in California Hustler;  Marc White in Crop Duster met  Claud LaVoie; and Steve Densham in Teacher's Pet met Kris Krabill.
Tomorrow the pairs will be: Hodgson and Day; Bynum and Sanders; Rupert and Horan; and White and Krabill.
Top Fuel also ran 2 rounds of elimination today.  Tony Bartone had a bye.  Rick Williamson met Adam Sorokin; Jim Murphy met Rick McGee; Terry Cox met Denver Schutz; Rick White had a bye; and Bill Dunlap met D David Hirata.
Tomorrow the pairs will be: Bartone and Williamson; McGee and Schutz; White has a bye; and Dunlap and Hirata.
There were 11 ProMods running today and all 11 will return tomorrow.  No. 1 qualifier Sean Renteria; No. 2 Andrew Berry; No. 3 Rob Moore; No. 4 Ronnie Nunes; No. 5 Mike Leonard; No. 6 Cole Dow; No. 7 Eric Peterson; No. 8 Jay Diedrich; No. 9 Wade Sjostrom; No. 10 Rob Cacioppo and No. 11 Brian Macy.  Tomorrow the pairs will be: Renteria has a bye; Dow and Peterson; Moore and Cacioppo; Nunes and Sjostrom; Berry and Macy and Leonard and Diedrich.
All elimination rounds in all classes will be run tomorrow and by this time tomorrow night we'll know the winners.  Check back.
Friday Race Recap
Racing today ended with a qualifying round of Top Fuel.  Tony Bartone is in the No. 1 spot.  T-Bone blistered the track with an ET of 5.585 at 242.10 mph.  No. 2 Rick White ran 5.668 at 259.96.  Top Fuel is a 13 car field and all will return tomorrow.  T-Bone had the quickest time of the day and White turned in  the fastest time.
The Funny Car field went from 32 to 16 today. Ryan Hodgson from Alberta, Canada qualified No. 1 with Jason Rupert at No. 2.  Hodgson ran an ET of 5.642 at 262.28 mph to Rupert's ET of 5.652 at 259.76 mph.
The Pro Mods ran in the Reunion this year.  Andrew Berry in a '68 Camaro ran an ET of 6.014 at 243.59 mph to take the No. 1 position with Sean Renteria in his '65 Plymouth running an ET of 6.178 at 240.68 mph captured the No. 2 slot.  This field started with 9 cars.
Three cars ran AA/Supercharged.  The qualifying order is Howard Anderson ET 6.589 at 210.54; Mike Molea ET 6.902 at 201.46; and, Gary Reinero ET 15.763 at 50.32.
7.0 Pro was a 32 car field.  After round 1 of qualifying Troy Sitko was No. 1 with an ET of 7.015 at 192.96 and Lawton Ferreira was No. 2 with an ET of 7.047 at 189.79 mph.
At the end of round 1 of qualifying Darrell Waters was No. 1 with at ET of 6.307 at 212.46 and Drew Austin was No. 2 running an ET of 6.310 at 221.16 mph.  Heritage Series points leader Kin Bates is in the No. 7 spot.
Jr. Fuel runs on a three tier index, 7.02, 7.15, and 6.90.  Five cars ran 7.02, Scott Parks, Wayne Ramay, Fred Notzka, Mark McCormick and J.D. Zink.  Don Enriquez ran on a 7.15 index and Brad Woodard ran on a 6.90 index.  All Jr. Fuel racers will return tomorrow.
A Gas runs on a 7.6 index.  Tom Fowler in a '70 Camaro ran 7.610 at 179.92 mph to capture the No. 1 spot with Eric Bush in a '67 Camaro sitting in No. 2 with an ET of 7.632 at 177.51 mph.  This was round 1 of qualifying of this 26 car field and all 26 will run qualifying tomorrow.
A/FX is a 21 car field.  Jim Garcia in a 1966 Ford was the quickest today with an 8.963 ET at 145.97 mph and David Franklin in a '61 Galaxie was in the No. 2 spot with a 9.195 ET at 147.46 mph.  This class will run another round of qualifying tomorrow.
The weather was near perfect today and tomorrow is supposed to be the same.  We'll post results again tomorrow night.
The 24th California Hot Rod Reunion will take place this week-end at Famoso Raceway, Bakersfield CA.  We will post race updates throughout the week-end and a full article with photos will be posted Monday evening.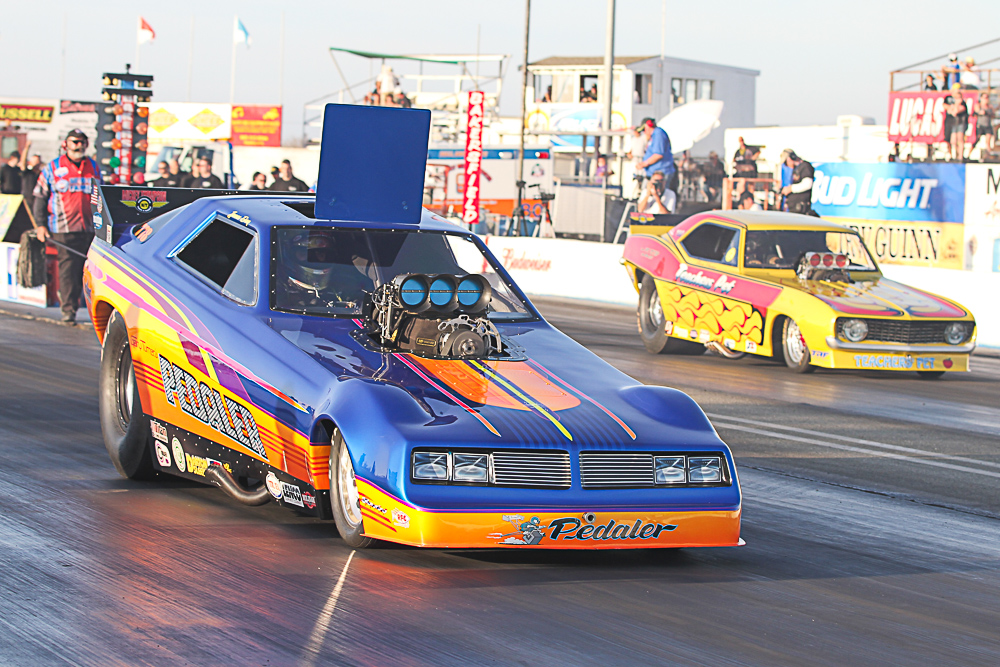 The Reunion will be the final race in the Heritage Series for Nostalgia Funny Car, Top Fuel, Junior Fuel, A/Fuel, and 7.0 Pro.  Once again, Tony Bartone leads the points race in Top Fuel while Steve Densham is at the top of the Funny Car pile. Bobby Cottrell heads into the Reunion as the leader in 7.0 Pro.  Kin Bates, a perennial A Fuel leader,  is once again first in the points.  Scott Parks leads the points race in Jr. Fuel.
In addition, this year the Nostalgia Pro Mods will join in the action. The the field in the Nostalgia Pro Mod category will consist of sixteen of the fastest door slammers on a quarter mile track. These cars feature 1972 or earlier body styles.  The Pro Mods are powered by combinations including monster CID engines with multiple stages of nitrous, and combinations of 14-71 Roots blown supercharged engines, PSI Screw type superchargers and twin turbochargers. The team that picks the quickest combination wins.
As has become the norm, Saturday will end with Cacklefest.
Grand Marshal Jim Dunn and honorees Paul Althouse, Cub Barnett, Don Gaide and Don Ratican, John Jodauga and Doug Kruse will all be honored during the course of the weekend.
The event begins on Friday and racing starts at

8 a.m.

 everyday.