MARCH MEET 2016
The Famoso team deserves a big "well done" for making sure that the 2016 March Meet happened.  A fire on January 6, 2016 reduced the old timing tower to a pile of smoldering rubble, taking with it a lot of the equipment and electronics needed to operate the track.  However awful the fire was, it provided an opportunity for the racing community to show John and Blake Bowser, and the individuals who work with them, just how much they, and Famoso Raceway, mean to the racing community.   Rocky Mountain Raceway was most generous in its loan of equipment, including the very necessary jet drier, Las Vegas Motor Speedway made a much needed loan of its tech folks to get the electronics wired up and working and many, many individuals and businesses donated money and/or time to ensure that Famoso Raceway came back to life.   AND BACK IT WAS!!!
At 9:00 a.m. on Thursday, with hot rods leading the way, the 2016 March Meet let its voice be heard.
This slideshow requires JavaScript.
Qualifying started for Group 2 cars (Hot Rod, D/Gas, C/Gas, B/Gas, A/Gas, Nostalgia Eliminator 3, Nostalgia Eliminator 2, Nostalgia Eliminator 1) at 9:00 a.m. with Group 2 (7.0 Pro, Junior Fuel, A Fuel) qualifying rounds starting at 2:00 p.m.  The nitro cars did some testing when Group 2 finished qualifying.
Qualifying in all classes continued on Friday with rain forecast for Saturday.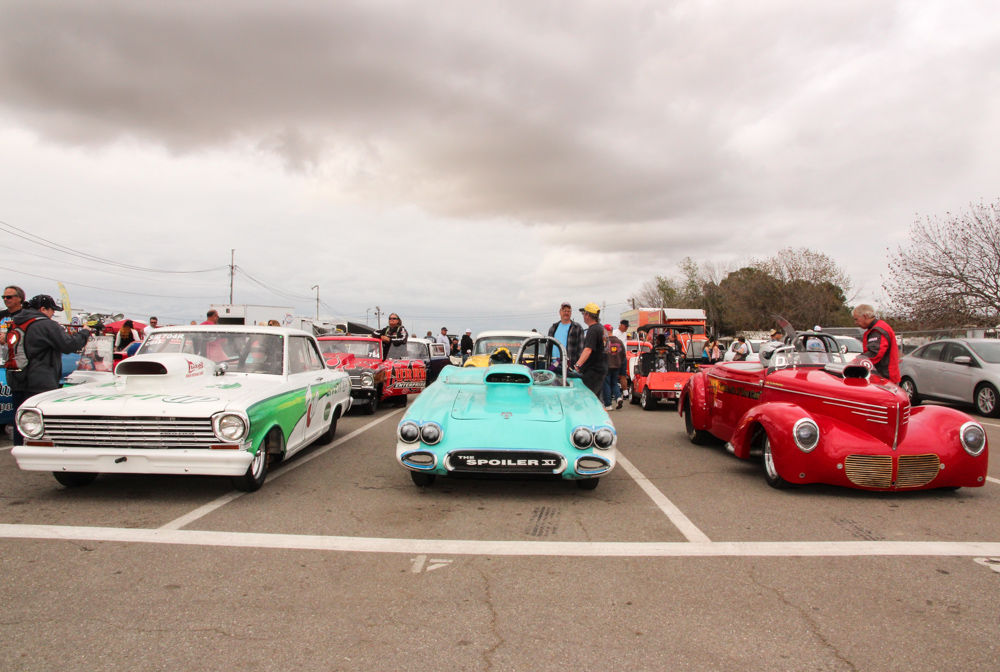 Saturday the elimination rounds started and so did the rain.  One three-hour rain delay played havoc with the run order and the schedule but racing continued under the lights into Saturday night.
Sunday again brought some short rain delays, and some wind and hail, but the 2016 March Meet is now in the books.
There was a lot of racing going on!
This slideshow requires JavaScript.
TOP FUEL  (For photos of nitro car winners see Sunday Night Recap below)
There were 13 top fuel cars attempting to qualify for the 8-car elimination field.  The No. 1 qualifier was Rick White, in the Neal and White car. White also ran the low ET of 5.548 and Terry Cox ran the fastest at 256.16; but neither White nor Cox made it to the semi-finals.  The final four:  Adam Sorokin, at the line next to Jim Murphy, took the win when Murphy went red;  Rick Williamson met Tony Bartone, who crossed the centerline when his tires began to spin around the half-track mark.  Williamson and Sorokin went to the finals.  Williamson, the No. 8 qualifier, had his best run of the day in the finals, with an ET of 5.572 at 245.27 mph.  Sorokin lost traction at the start and crossed the finish line with an ET of 6.709.  Rick Williamson took home the trophy in top fuel.
FUNNY CAR
Twenty-two funny cars competed to get into the 16 car field.  In the semi-finals Kris Krabill became the holder of the quickest run in Nostalgia Funny Car history when he ran an ET of 5.552. This run also gave him top speed of the day at 261.62 mph. Krabill met Dan Horan in the semi's, but Krabill was clearly unstoppable.  Last year's March Meet winner, Steven Densham met Matt Bynum in the semi-finals.  Densham got off the line first to take the win with an ET of 5.656 at 253.75 mph.  Densham and Krabill met in the finals where Krabill ran an ET of 5.582 to Densham's 5.640.  Densham was unable to win his 3rd in row March Meet, as Krabill took the win.
FUEL ALTERED
After a top end collision between two fuel altereds in the first round of eliminations, and a couple fouls in the semi-finals, Dan Hix in Heat Seeker ran in the finals next to Roger "Radar" Lechtenberg in Nitro Madness.  Nitro Madness was the quickest with an ET of 6.090 at 209.33 mph.  Hix, hoping for a repeat of his 2015 March Meet win, followed with an ET of 6.131.  Lechtenberg was the fuel altered winner.
A FUEL
Kin Bates was the No. 1 qualifier, low ET holder (6.137) and top speed holder (228.69) but not the finals winner.  Bates met Drew Austin in the finals.  Austin left the line first with a reaction time of .047 to Bates' .093.  Austin had an ET of 6.418 at 220.04 to Bates' ET of 7.583 at 132.31 mph.
JR. FUEL
Brad Woodward, the No. 4 qualifier took the win over Alan Hull, the No. 2 qualifier.  Don Enriquez, the No. 1 qualifier went out in round 2 of eliminations.
7.0 PRO
This 33 car field ran 5 elimination rounds plus the finals. Errol Sharron and Michael Peck met in the finals.  This is a 7.0 index class and Sharron ran an ET of 7.008 at 169.89 mph.  Peck broke out with an ET of 6.928 at 195.34.  Sharron was the 7.0 Pro winner
AA/SUPERCHARGED
Howard Anderson met and beat Gary Reinero in the finals.  Anderson was quicker, ET 7.494 to 7.706, but Reinero was faster 192.96 mph to 184.83.  Both cars were slow off the line – Anderson's reaction time was .154 and Reinero's was .181.  Anderson dominated the class – No. 1 qualifier, low ET – 6.676 and Top Speed – 208.94.  Although Anderson's numbers were off in the finals, he took home the trophy.
NOSTALGIA ELIMINATOR I
The final round was a match-up between Hans Jakob and Brandon Seraphine. Seraphine, the winner, was first off the line with a reaction time of .022 and the first to cross the finish with an ET of 7.652 at 176.30.
NOSTALGIA ELIMINATOR II
Both driving  '23 Fords, Charlie See met Jay Huckleberry in the finals.  Huckleberry broke giving See an easy win.
NOSTALGIA EILIMIANTOR III
Ed DeStatute in a '62 Corvette met Wes Anderson in a '32 Ford in the finals.  Anderson went red at the light giving DeStaute the win.
The gassers were an impressive group.
This slideshow requires JavaScript.
A/GAS
Jerry Jahnsen, Jr. and Frank Merenda prevailed through four rounds of eliminations to go the finals in this 7.60 index class.  Jahnsen in a '69 Chevy was quicker and faster than Merenda in a '59 Rambler.  Jahnsen ran an ET of 7.604 at 179.56 mph.
B/GAS
The finals in this 8.60 index class paired Roy Castagnetto in a '65 Chevelle and Val Miller in a '71 Cuda.  Miller had a reaction time of .142 to Castagnetto's .035.  Miller ran hard to catch up, but broke out making Castagnetto the B/Gas winner.
C/GAS
This class runs on a 9.60 index.  After five rounds of elimination Jim Finn and Wayne Hoover met in the finals.  Finn in '77 Vega and Hoover in a '67 Nova.  Finn won this race at the start line with a .004 reaction time.  Hoover's slow reaction time, .147, left him playing catch-up and led to a break out.  Finn won with an ET of 9.676 at 129.06 mph.
D/GAS
Running on a 10.60 index, Ed Carey in a '71 Camaro met Steve Barta in a 62 Nova.  Barta broke out with an ET of 10.592 letting Carey win on an ET of 10.615.
HOT ROD
This dial-in class ran six rounds of eliminations before the final round.  Kurt Kaemerle in a '72 Nova ran of a 10.05 dial-in and met Raymond McIver in a '64 El Camino running on an 11.97 dial-in.  Kaemerle ran an ET of 10.084 at 131.16 mph while McIver ran a too quick ET of 11.937 and Kaemerle won the race.
Fireworks from Tony Bartone at the top end and other 'Chutes shots: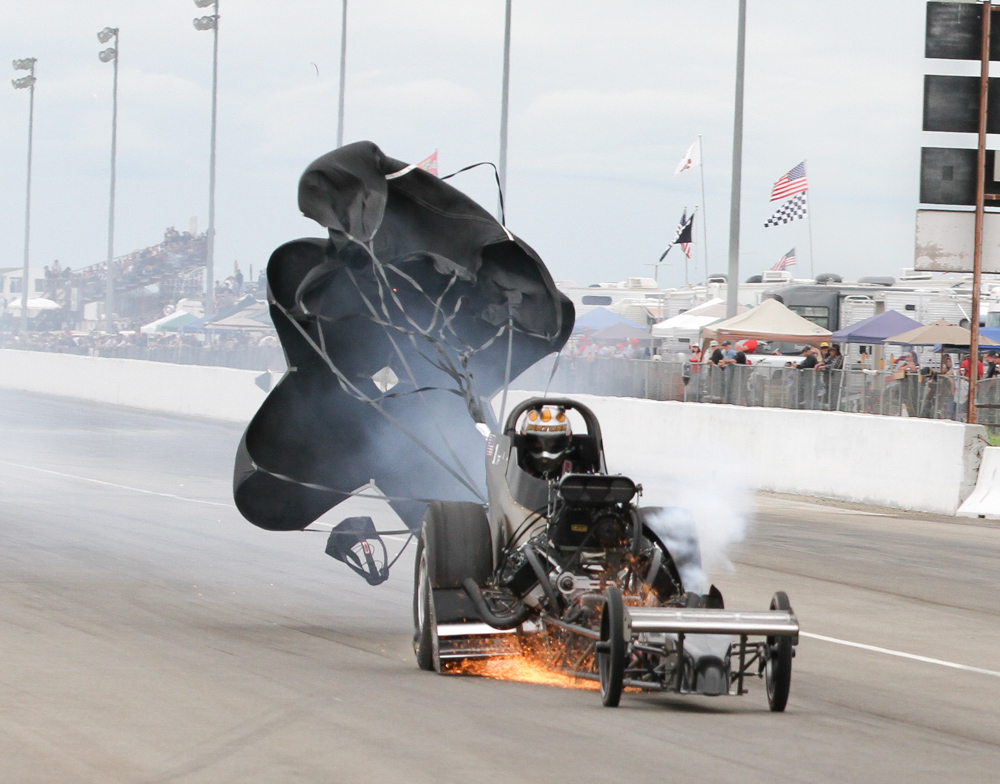 This slideshow requires JavaScript.
Ed "the Outlaw" Jones put on a fantastic show in the Jelly Belly 1931 wheel standing Chevy fire truck.  Not only did it travel the quarter mile on two wheels but it shot some pretty impressive flames.  This wheel stander was a big hit, and so were the Jelly Bellies tossed to the crowd at the end of the run.
This slideshow requires JavaScript.
There were a lot of cars in the Grove Friday and Saturday.  The number dwindled some on Sunday – likely because hot rods don't tend to get on well with rain.  Below are some of the cars in the Grove.
This slideshow requires JavaScript.
The two cars below were award winners.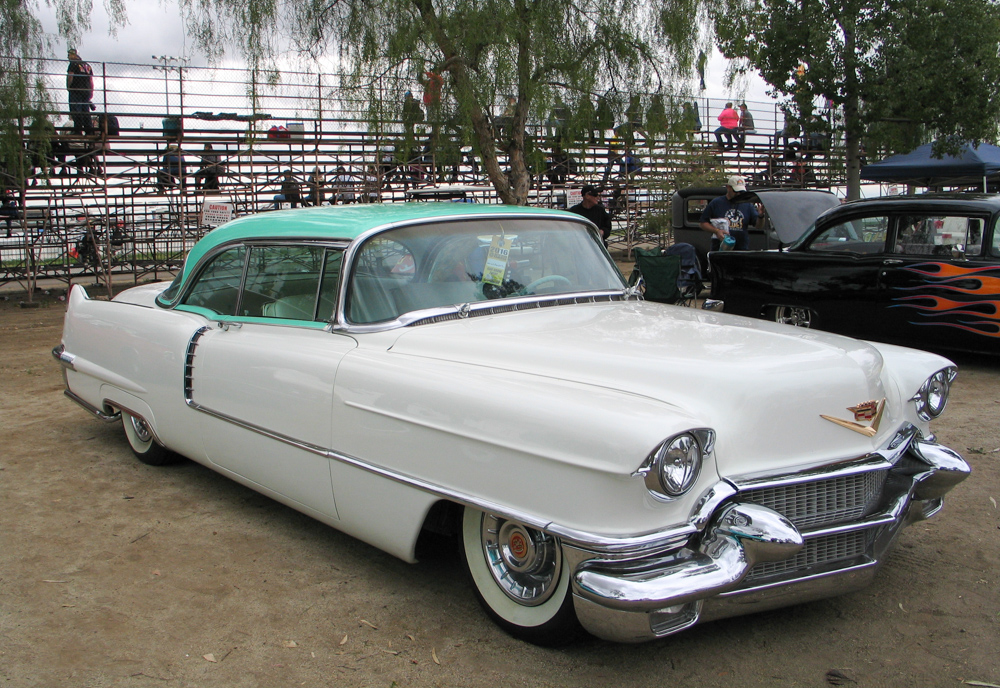 The midway was full of vendors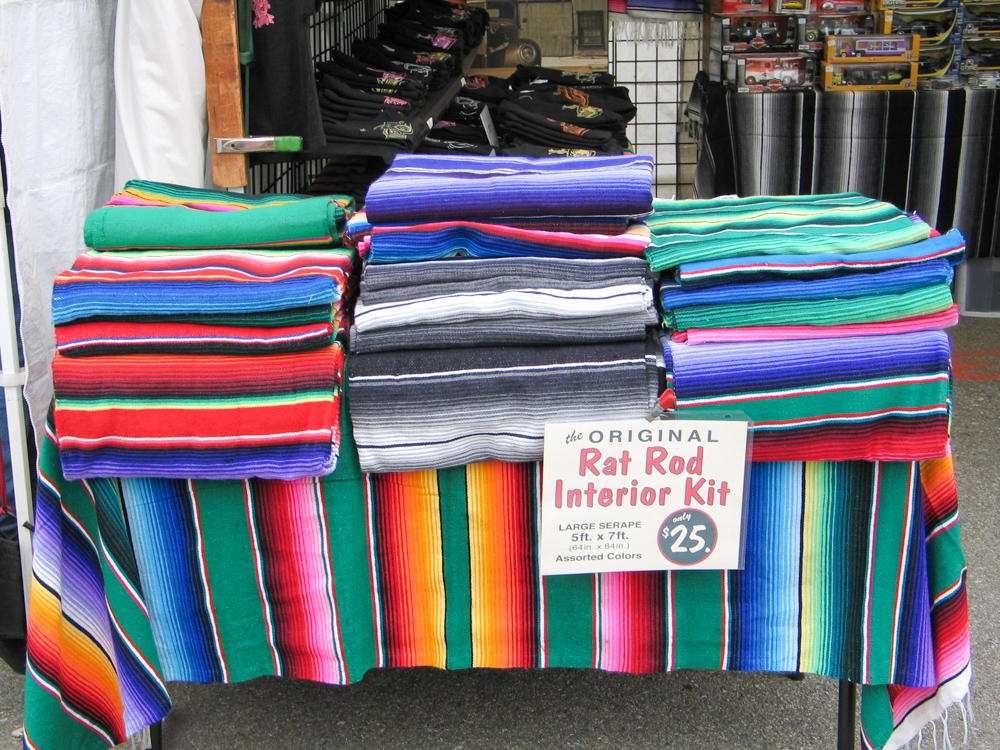 and the swap meet had nifty things.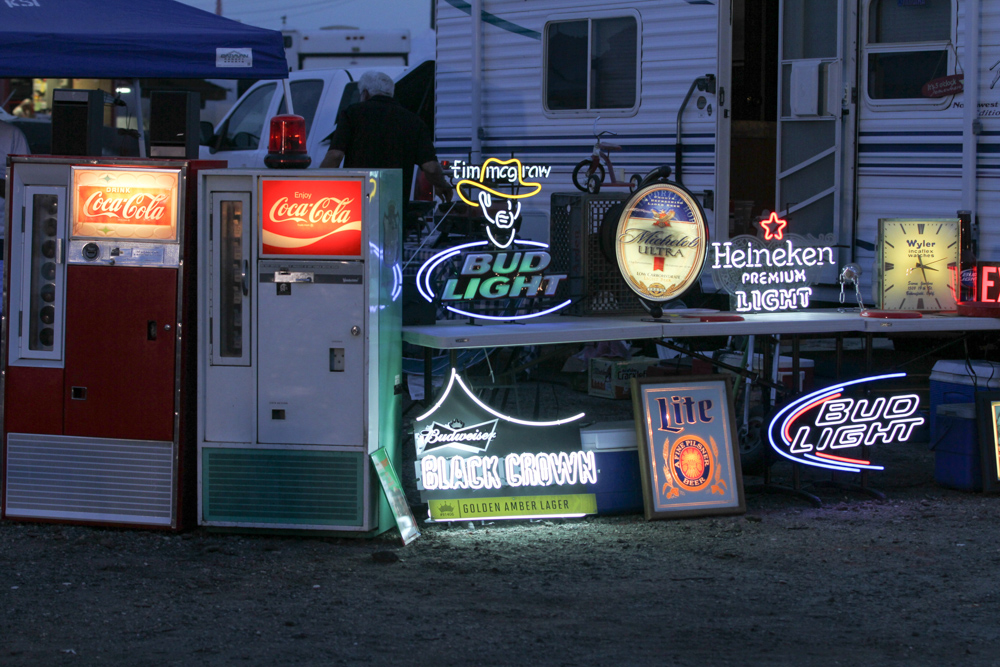 Old vehicles are always interesting and deserving of a second look – some are shiny and some not – but all are captivating such as this truck found in the parking lot at the race track .
Despite several rain delays on Saturday and Sunday everyone at Famoso Raceway last week-end demonstrated why the March Meet is second to none.  The track workers did a magnificent job of cleaning up, drying off and generally keeping the strip ready for racing, all the racers exhibited their appreciation by putting on one heck of a show, and while the fans had to run for cover a few times, their enthusiasm was unmatched – and they always came back.
We have posted additional event photos on our SmugMug site.

SUNDAY RACE RECAP
The nitro car winners are:
Top Fuel: Rick Williamson met Adam Sorokin in the final round and took the win with an ET of 5.572 at 245.27 mph.
Funny Car:  Kris Krabill met Steven Densham in the final round.  Krabill was quickest and fastest and scored the win with an ET of 5.582 at 256.94 mph.   In the semi-finals Krabill turned in an ET of 5.552 which is the quickest ET ever in Nostalgia Funny Car.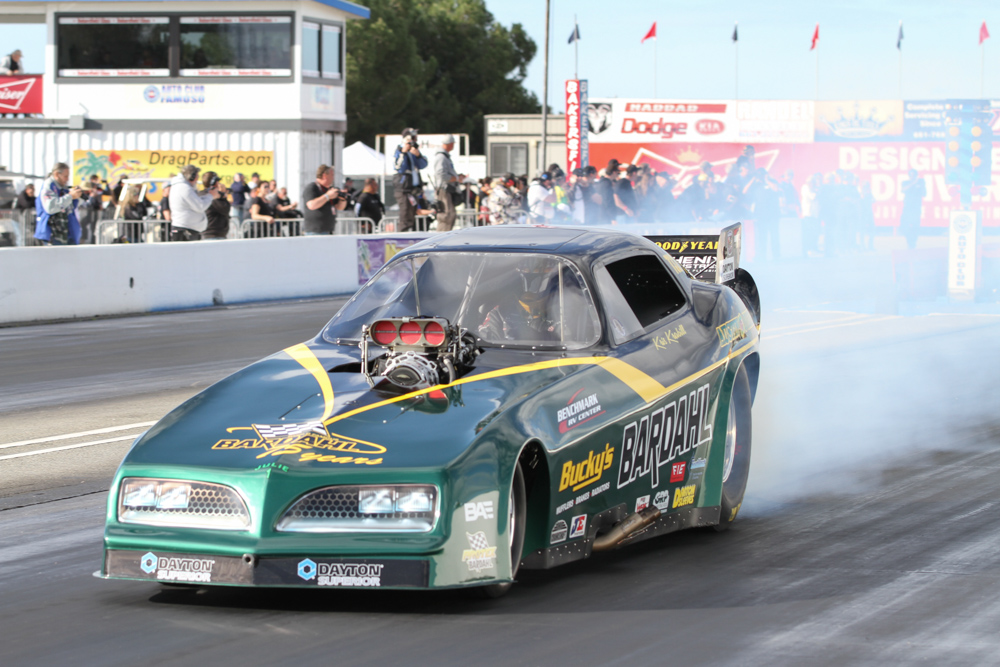 Fuel Altered: Roger "Radar" Lechtenberg bested Dan Hix in the final round. Lechtenberg had an ET of 6.09 at 209.33 mph.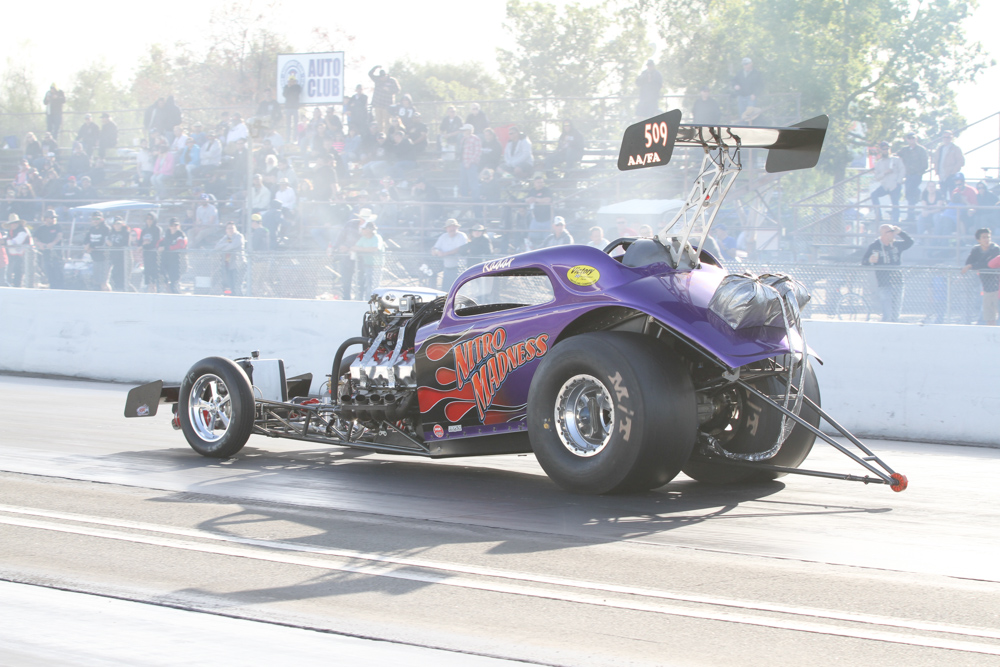 We will have a complete article with all the race results and photos Monday evening.
SATURDAY RACE RECAP
Saturday was cloudy and wet with a few rain delays between races.  The first rain delay started around 11:00 a.m. and lasted until after 2:00 p.m.  The Christmas tree was covered up to keep it dry.

After that only a couple short delays interrupted the action.
We have the first round of elimination pairings for funny car and top fuel.  All the race results are not available.
Funny Cars will be racing in a 16 car field.  In round 1 Densham the No. 1 qualifier will meet Rian Kono; Day in the Pedaler will meet Rogers (or O'Rogers if you will) in Fighting Irish; Lee in California Hustler will meet Pete Petersen in Quarter Pounder; Bynum will meet Hudson; Krabill will meet Davis; Townsend will meet Hodgson; Horan will meet White; Thompson will meet Nemeth.  Densham in Teacher's Pet had the low ET of 5.644 and Cory Lee in California Hustler set top speed of 256.26.
First round pairings for Top Fuel are Rick White, the No. 1 qualifier will meet Adam Sorokin; Bill Dunlap in High Speed will meet Jim Murphy in WWII, Tony Bartone will meet Green and Jimmy Young will meet Rick Williamson.
Below are a few (very few) of the photos from today.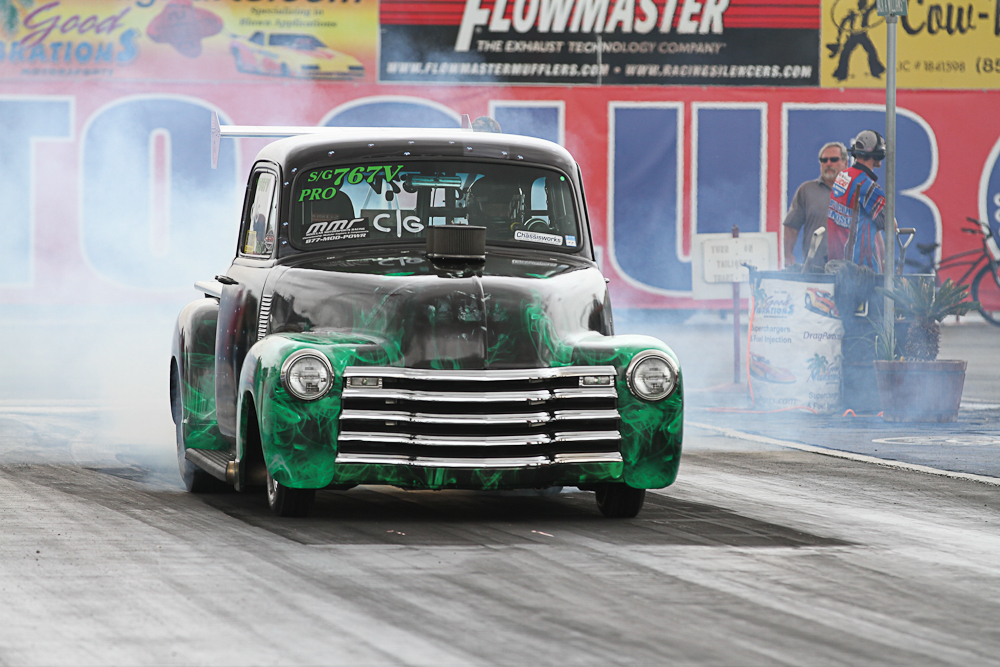 This slideshow requires JavaScript.
Weather permitting, tomorrow will see all classes run through final eliminations.  The classes are Funny Car, Top Fuel, Fuel Altered, A/Fuel, Jr. Fuel, NE I, NE II, NE III, AA Supercharged, 7.o Pro, A/Gas, B/Gas, C/Gas, D/Gas, and Hot Rod.    There were a lot more hot rods in the Grove today and we'll post those photos Monday evening.
We will post a full article and a lot more photos Monday evening.
FRIDAY RACE RECAP
Today was a full day of racing and then some – several track cleanups slowed things up.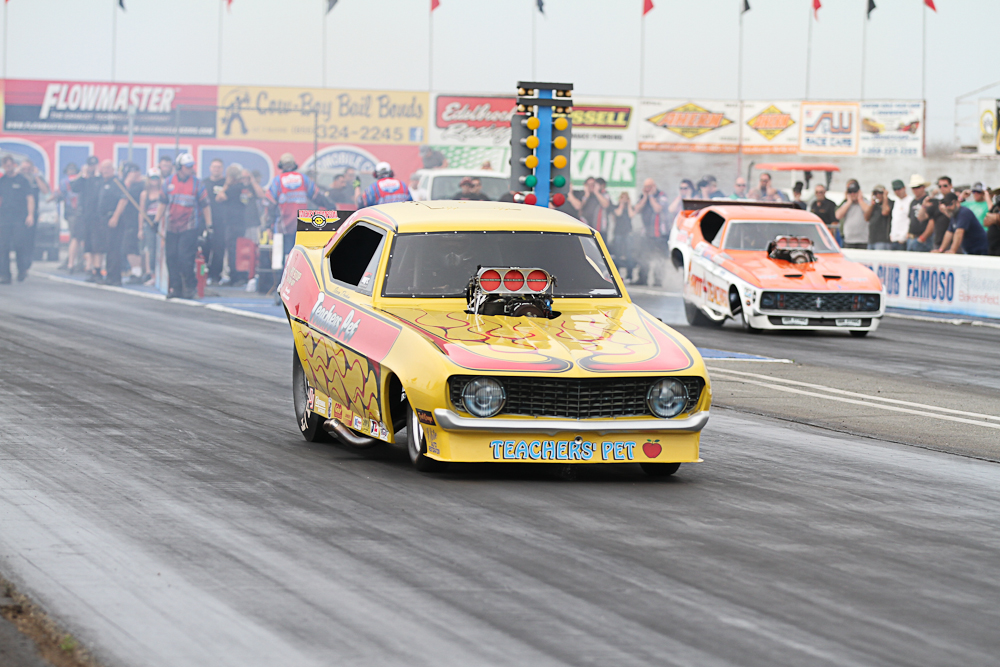 AA/FC:  At the end of the 2nd round of qualifying Steven Densham sat in the number 1 spot with an ET of 5.644 at 253.99 mph.  Next up was Dan Horan with an ET of 5.728 at 252.33.  Low ET of the day was sent by Densham at 5.644.  There were 22 cars in the field and by mid-day tomorrow that will be reduced to 16.  Rian Kono is on the bubble with an ET of 6.083.
Top Fuel:  Tony Bartone is staking out his number 1 position early.  After being upset at Hot Rod Reunion by the High Speed crew, Bartone is looking to regain his throne.  Bartone is the number 1 qualifier at the end of the 2nd qualifying round with an ET of 5.676 at 212.39.  Bartone has the low ET of the day but Terry Cox set top speed of 256.16.  Rick White is in the number 2 spot with an ET of 5.778 at 205.54.  Thirteen cars are attempting to qualify for an 8 car field.  Adam Sorokin sits on the bubble with an ET of 5.923.
Both these fuel classes will have another round of qualifying tomorrow morning with the first round of eliminations in the afternoon.
Below are a few of the cars running today.
This slideshow requires JavaScript.
A/Gas, B/Gas, C/Gas, D/Gas, NE 1, NE2, NE3 and Hot Rod classes have all finished qualifying and their first round of eliminations is tomorrow morning.
The number 1 qualifier in each of these classes is:
A/Gas – Brian Rogers, ET 7.604, mph 179.25
B/Gas – Kevin Riley, ET 8.602, mph 156.15
C/Gas – Murray Brooks, ET 9.600, mph 137.00
D/Gas – Pat Walker, ET 10.601, mph 119.30
NE 1 – George Johns, ET 7.602, mph 174.77
NE 2 – Dwight Garland Jr., ET 8.600, mph 154.90
Unfortunately, no info is available for NE 3 or Hot Rod classes.
7.0 Pro, Jr. Fuel and A/Fuel will start eliminations tomorrow morning after another round of qualifying.  At the end of today the results were:
7.0 Pro – Michael Peck, ET 7.002, mph 197.22
A/Fuel – Kin Bates, ET 6.271 at 228.69 mph
Jr. Fuel – Don Enriquez, ET 7.165 (Jr. Fuel runs 3 sub-classes each with a different index) Enriquez ran on a 7.15 index.  Alan Hull ran an ET of 7.197 on a 7.01 index and Brad Woodward ran 7.414 on a 6.90 index.
 Fuel Altered class is also running the March Meet and will run a second round of qualifying tomorrow.
By Sunday all classes will be running elimination rounds.
There were a lot of cars in the Grove today, and no doubt there will be more tomorrow.
This slideshow requires JavaScript.
We'll post a recap again tomorrow night – so check back.
March Meet will start on Thursday and run through Sunday.  Thanks to some help from its friends, Famoso Raceway is ready to race after a devastating fire the first part of January.   Watch here for race updates nightly, starting Friday evening.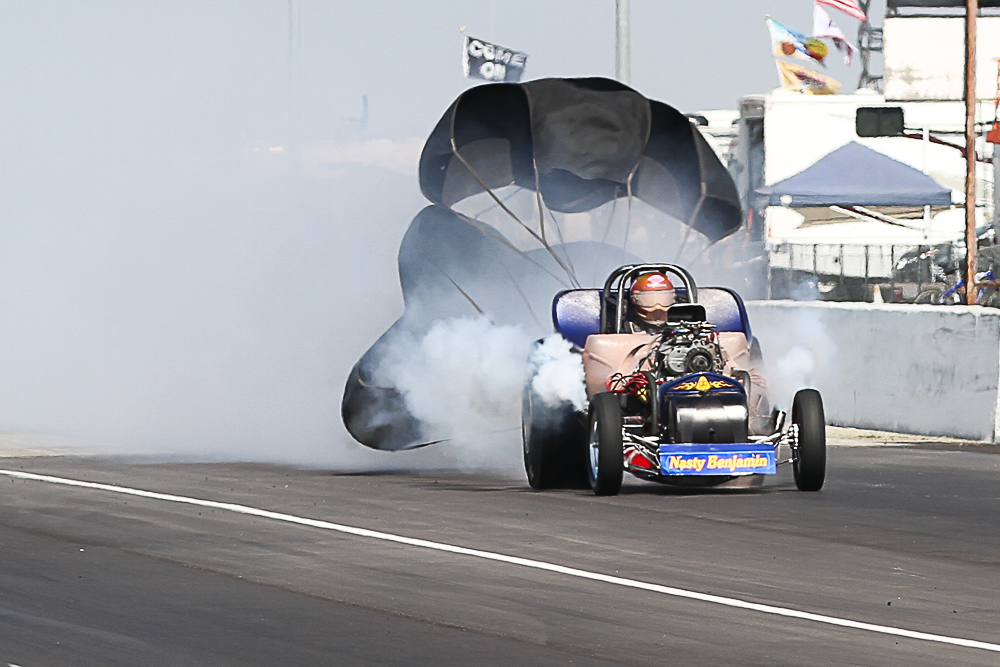 Below is the daily schedule.
Thursday, March 3
9:00 AM – Group 2 Time trials and qualifying
Run Order: Hot Rod, D/Gas, C/Gas, Nost. Elim 3, Nost. Elim 2, B/Gas, Nost. Elim 1, A/Gas, Hot Rod
2:00 PM – Group 1 Qualifying Session 1
Run Order: 7.0 Pro, Junior Fuel, A/Fuel
3:00 PM – Nitro Testing Session
Run Order: As arrive in lanes, all attempts made to run pairs, no split pairs (TF-FC, etc)
4:30 PM – Secure
Friday, March 4
8:15 AM – Group 2 Time trials and qualifying
Run Order: Hot Rod, D/Gas, C/Gas, Nost. Elim 3, Nost. Elim 2, B/Gas, Nost. Elim 1, A/Gas
12:30 PM – Funny Car & Top Fuel Qualifying Session 1
2:15 PM – Group 1 Qualifying Session 2
Run Order: 7.0 Pro, Junior Fuel, A/Fuel
3:15 PM – Funny Car & Top Fuel Qualifying Session 2
5:00 PM – Fuel Altered Qualifying Session 1
5:30 PM – Secure

Saturday, March 5
8:15 AM – Group 2 Round 1 Eliminations
Run Order: Hot Rod, D/Gas, C/Gas, Nost. Elim 3, Nost. Elim 2, B/Gas, Nost. Elim 1, A/Gas
12:30 PM – Funny Car & Top Fuel Qualifying Session 3
2:15 PM – Group 1 Round 1 Eliminations
Run Order: 7.0 Pro, Junior Fuel, A/Fuel
3:15 PM – Funny Car Round 1 Eliminations
4:00 PM – Fuel Altered Qualifying Session 2
Followed by Nost. Elim 1 Round 2 and 7.0 Pro Round 2
5:00 PM – Secure
Sunday, March 6
9:00 AM – Group 2 Eliminations
Run Order: Hot Rod, D/Gas, C/Gas, Nost. Elim 3, Nost. Elim 2, B/Gas, Nost. Elim 1, A/Gas, Hot Rod
11:00 AM – Opening Ceremony
11:45 AM – Nitro Final Eliminations
Run Order: Funny Car, Top Fuel, Fuel Altereds
12:45 PM – Continue Group 1 and Group 2 Eliminations
2:00 PM – Nitro Semi Finals
2:30 PM – Continue Group 1 and Group 2 Eliminations to Finals
3:45 PM – Group 2 and Group 1 Finals as they Return
4:15 PM – Nitro Finals