Below are a collection of vehicles which are rusting in peace. Many of the photos have been sent to us. If you run across a car that you would like to add to this collection, please send us a photo. We'll send a t-shirt to anyone who submits photos. Send photos by e-mail to timingtower@gmail.com.
The photos below are of a vehicle Tom came across while hiking near Big Bear. We're not positive what year the vehicle is, we're heard 1941 and 1952-54, but it is agreed it's a dodge military ambulance. Tom thinks this Dodge is sitting on private property. Looks like a good restoration project.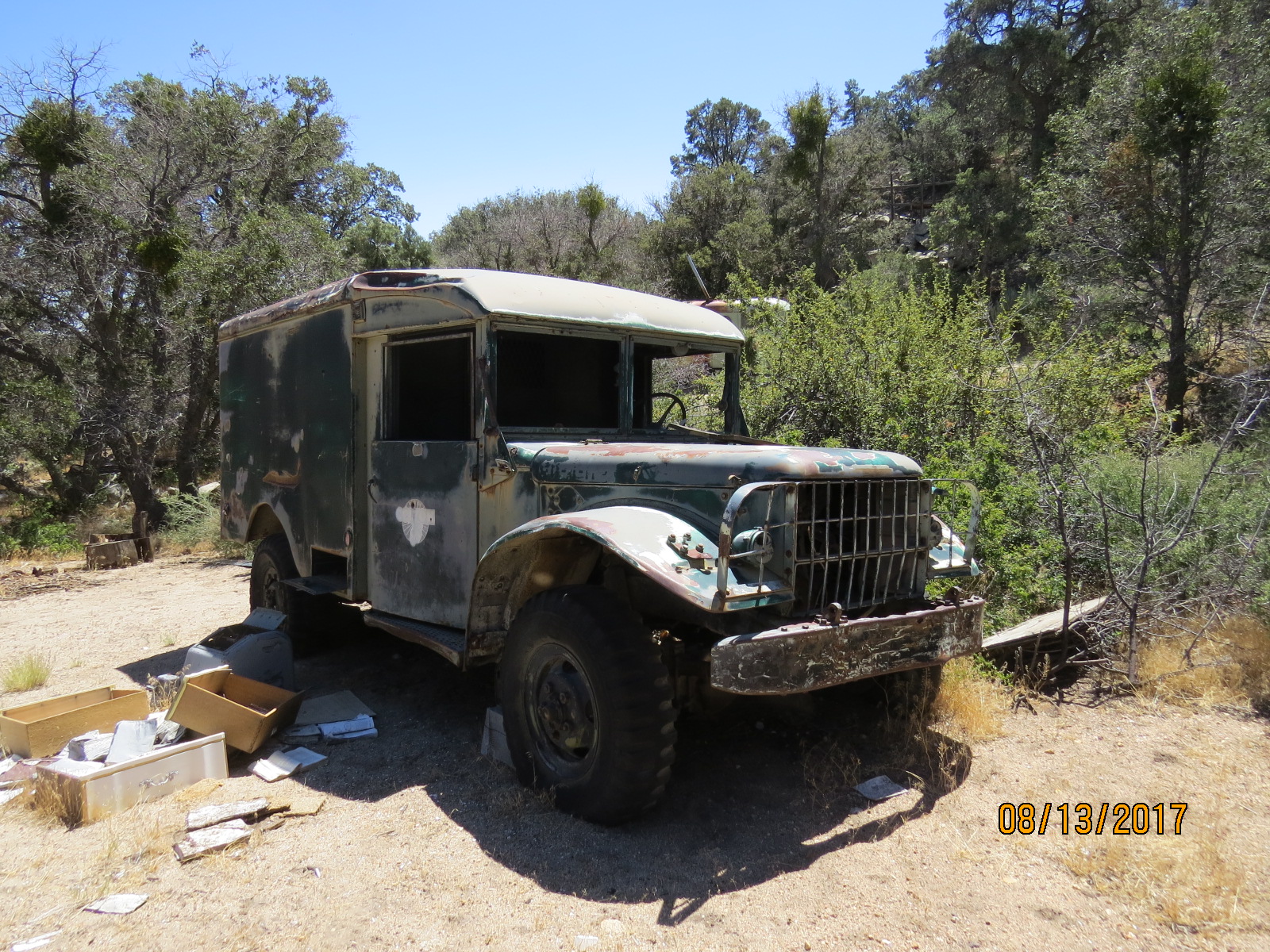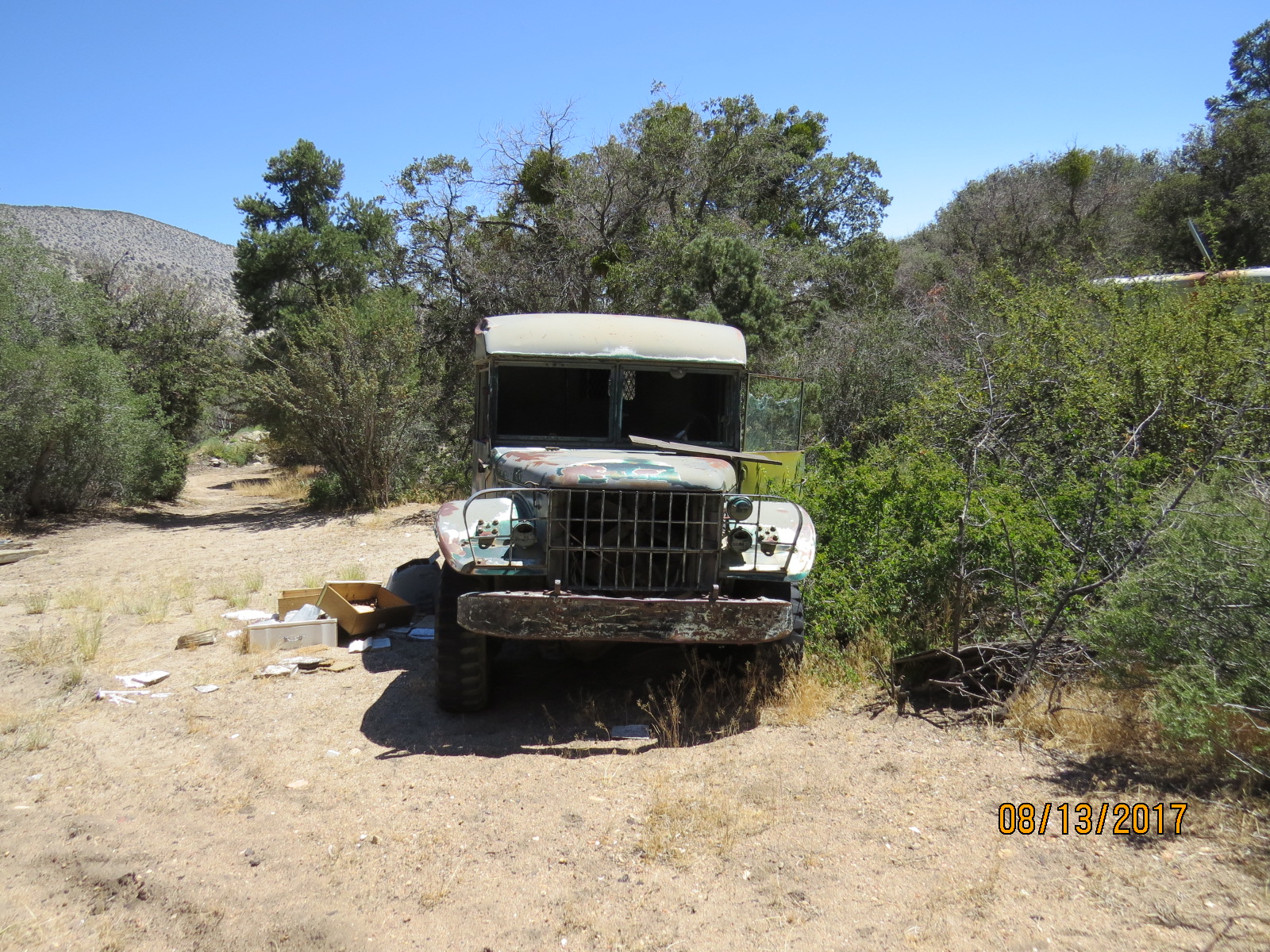 This dump truck sits at FMB Truck Outfitters in Colton. Jim from Yucca Valley, who sent us this photo, said "the guy at the counter said it is a 30's vintage Ford". The hand crank on the side most likely is used to raise the bed. It has no running gear, but that's fixable.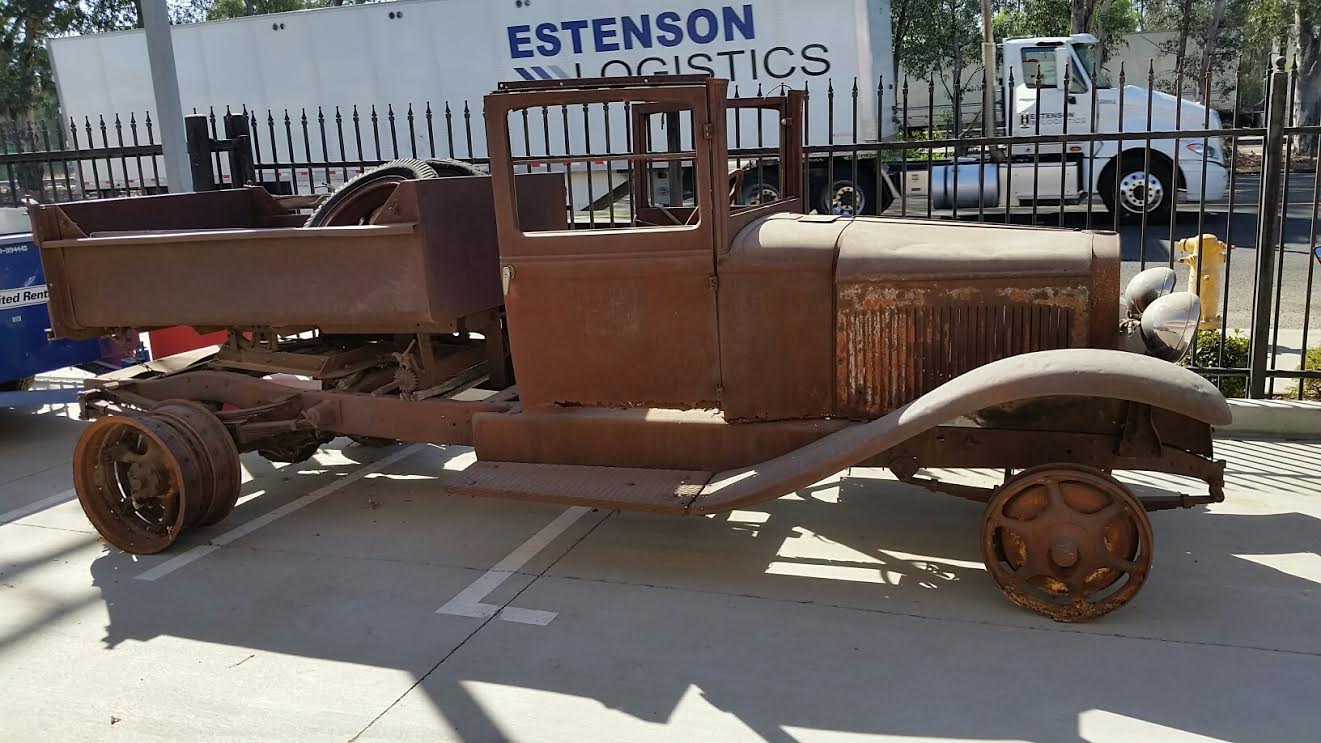 We came across these two vehicles last summer. They were sitting in a gas station no longer in business in Ludlow, California, which is on one of the few remaining portions of Route 66. The tanker is a Chevy and the green vehicle is a first generation International Travelall.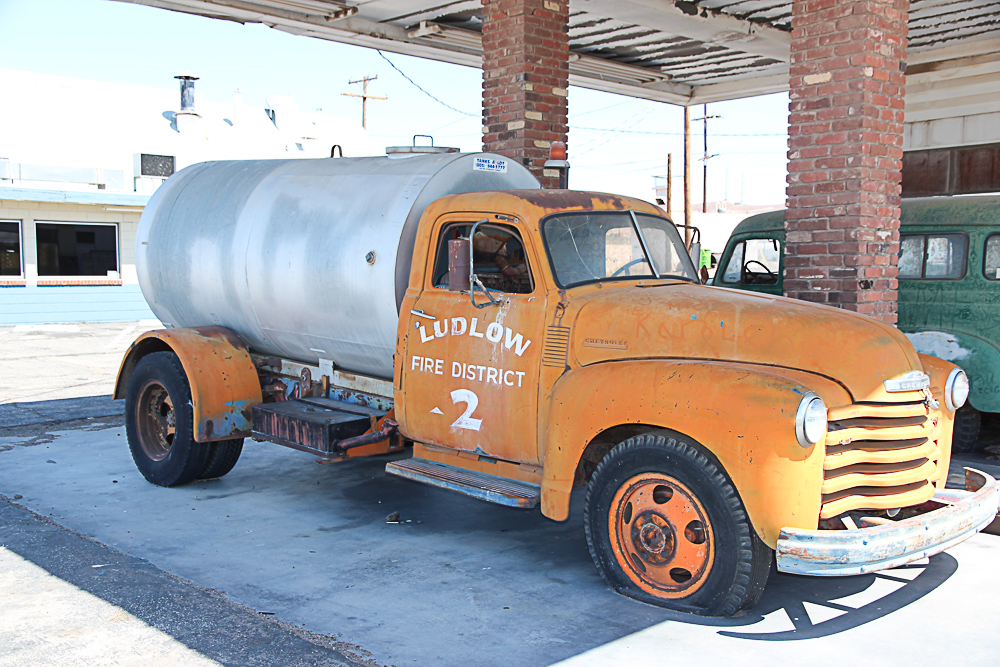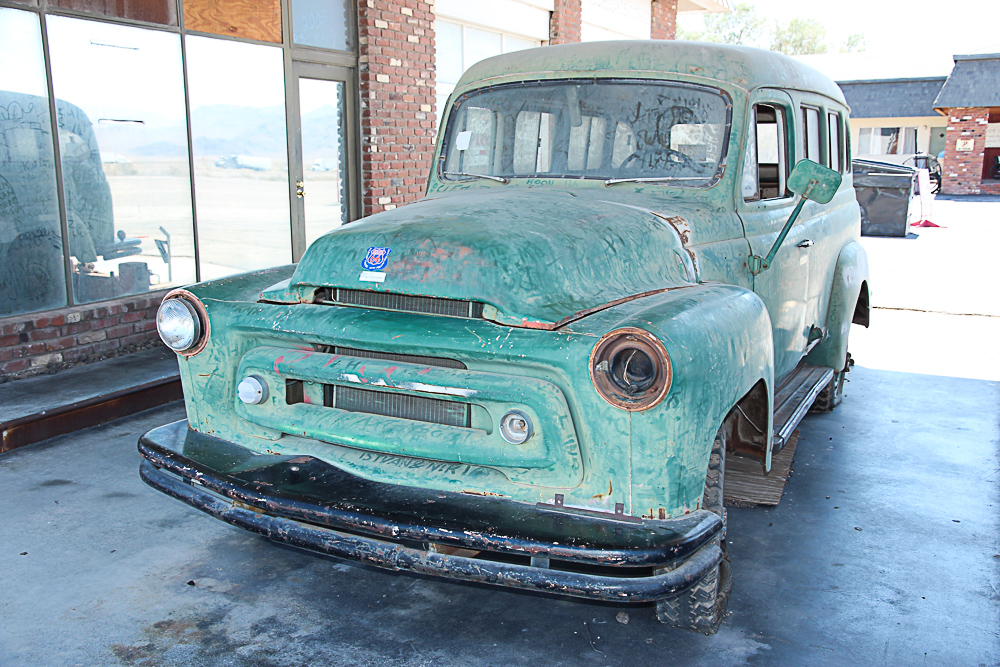 Photos of this 1 1/2 ton circa 1950 Chevy Truck were sent to us by Tom from Yucca Valley, CA. The truck is located out Hwy 247 between Lucerene Valley and Barstow at the Slash-X Restaurant. Looks like all this truck needs is air in its tires and it would be ready to roll.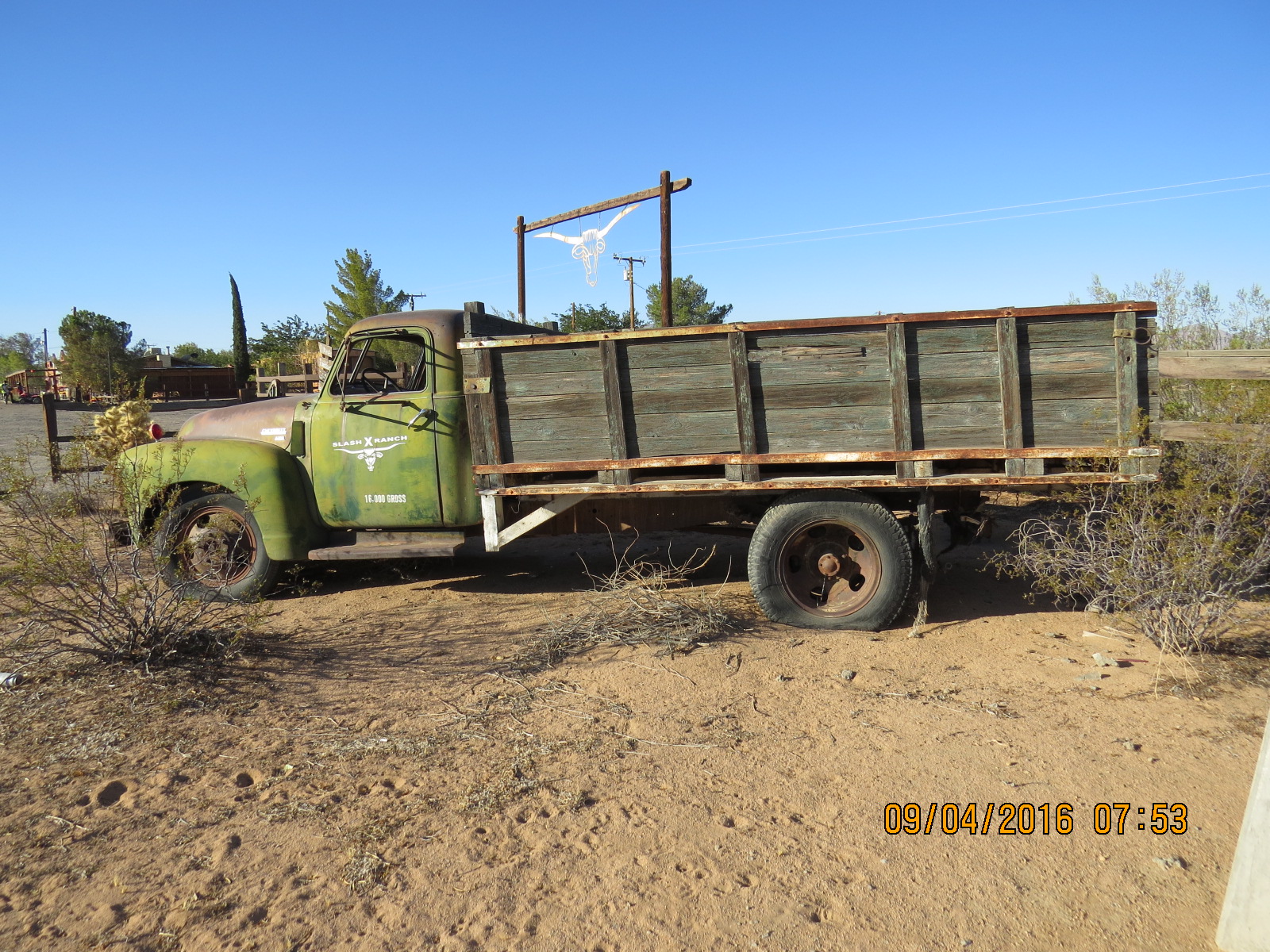 The following photo was taken in the Mojave Desert one moonlit July evening. We don't know what the make of the truck is and would appreciate it if anyone could tell us. It has all aluminum cab and doors and a flathead V8 engine – both of which are unusual for a truck of this era. We found the truck abandoned next to an old mining site.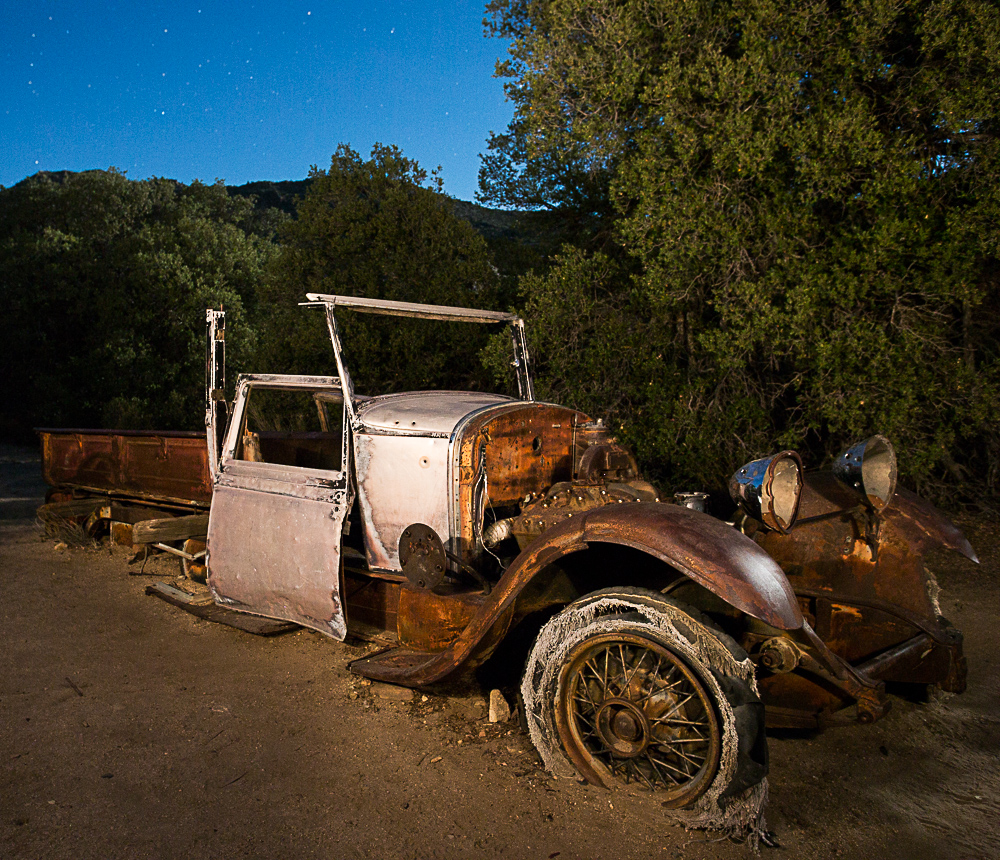 The photos below are of a 1941 Dodge Power Wagon Carry All and were sent to us by Tom from Yucca Valley. Tom found this Power Wagon while hiking in the Pinto Basin area of Joshua Tree National Park. It looks to be in pretty good shape and is amazingly intact. The land where the Dodge is located is privately owned but is within the boundaries of the Park.
This slideshow requires JavaScript.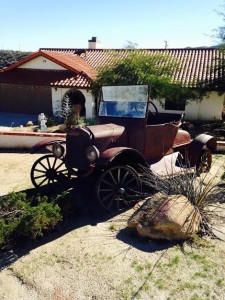 The photo above was taken by Tom from Yucca Valley. This complete Model T is serving as yard art in front of a home in Yucca Valley. While it does makes for great statuary, we can think of a better use.
The photo below was taken by Rich from Lake Havasu at a place called the Desert Bar, about five dusty miles off of Hwy 95 just north of Parker, AZ. A former copper mine, now home of the Nellie E. saloon, the property holds a lot of old "stuff" from an earlier time, including this tall T.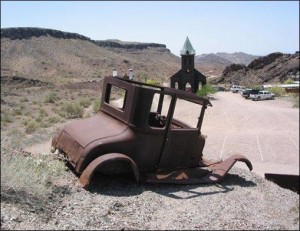 The two photos below were sent to us by John from Joshua Tree, CA. These two cars, and others, sit at Keyes Ranch, an old homestead owned by Bill Keyes. The ranch includes a house and other small buildings as well as a stamp mill Keyes used to separate ore from rocks.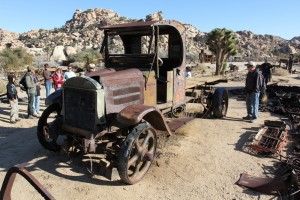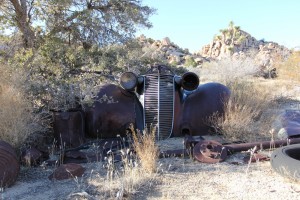 The four photos below were also sent to us by John. The vehicles were found next to a complete and operable gold ore crushing mill featuring late-19th Century two-stamp mill machinery. Much of the original mill equipment and machinery still remains. The area included the mill, a well, a bunkhouse and an outhouse, much of it now in ruins.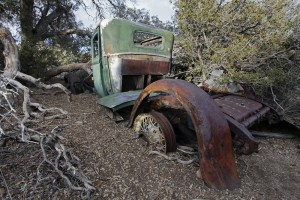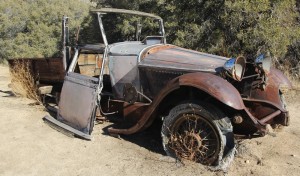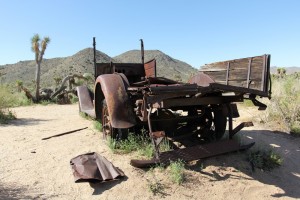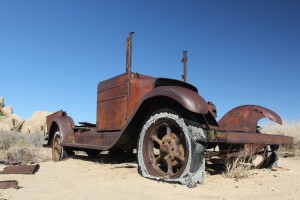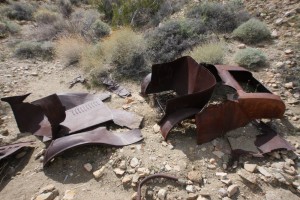 Above are pieces and parts found up a wash in the Colorado Desert.
This remarkably good specimen was found by in Alta, CA along the Lincoln Highway by Butch from Truckee, CA. Alta is off Highway 80 in Northern California not far from Truckee.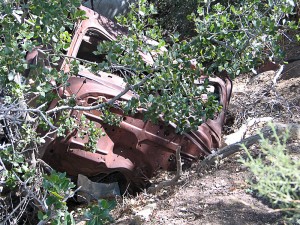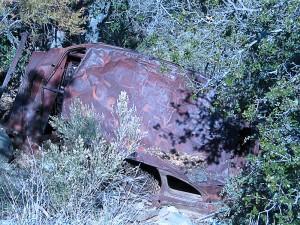 The above rust in peace entries are located a couple miles off Highway 74 (which runs through Palm Desert, CA) on the Cactus Springs Trail. They were found next to a long abandoned dolomite mine. They look like they were pushed off the edge rather than hauled out when the mine was closed.
The poor post-war Ford (below) lies in Big Morongo Canyon Preserve off Highway 62 in Morongo, CA. Unfortunately it has seen better days. Not only was it pushed off the cliff above, a huge rock fell on it, every piece of trim has been stripped off, and it was used for target practice. No amount of TLC can bring this one back. Not a nice way to end.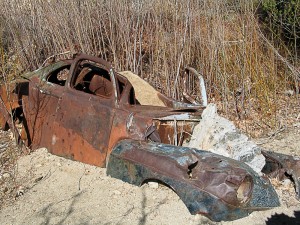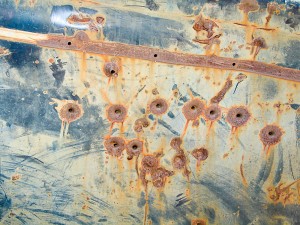 We found this 1947 Dodge Power Wagon sitting out behind some buildings near Hope, Alaska. The owner said it was used for logging for 20 years before it was retired. It surely deserved retirement as there is not a panel on it that is not beat up. The owner said he had started the engine a few months before these pictures were taken. The Dodge Power Wagon was based on a WWII truck and has a real reputation for toughness. This Dodge Power Wagon worked in the Alaskan lumber industry and still runs.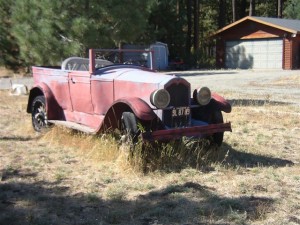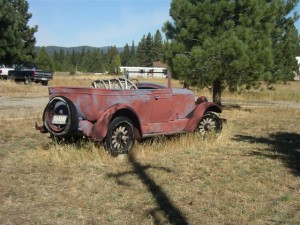 The photos above were sent to us by Butch in Truckee. He came across this roadster one day while riding his bike. (We have learned that this car is no longer in the field. We hope its been adopted into a good home.)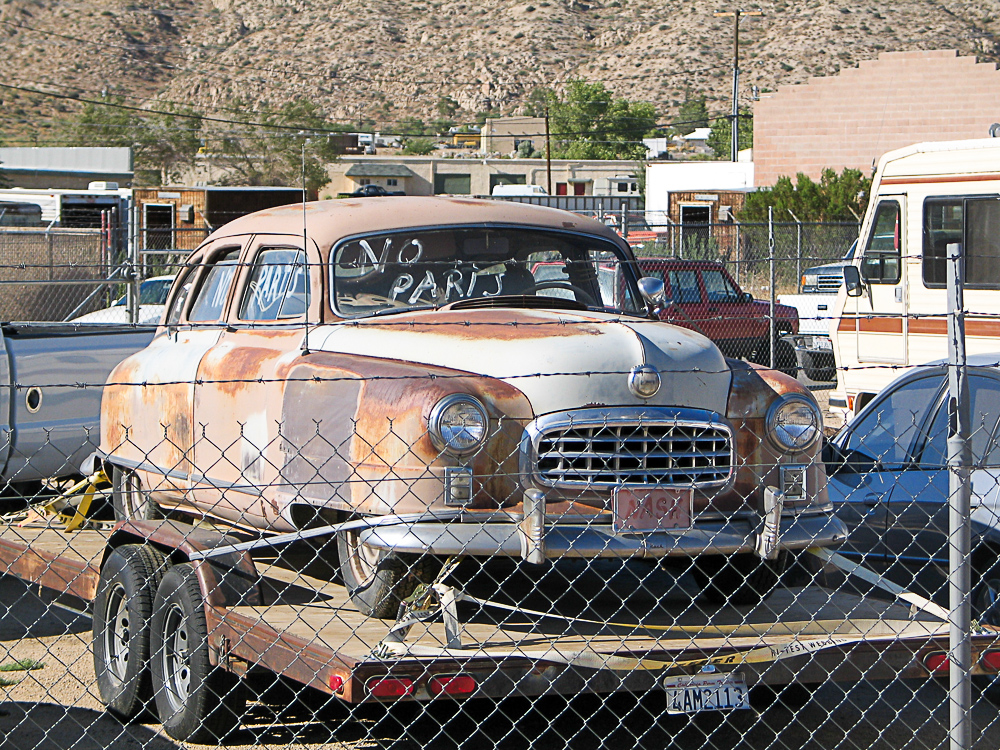 This Nash, above, is sitting on the north side Highway 62 at a car repair shop in Yucca Valley. It's for sale. Watch out for the junk yard dogs.
This slideshow requires JavaScript.
These photos, above, were sent to us by Pat in Palmdale. This nice old Lincoln is in the LA area and could be made beautiful again.
The two photos below are of a T roadster next to an abandoned and collapsed homestead in the Mojave Desert. Most likely this was the site of a mine during the 1930's.