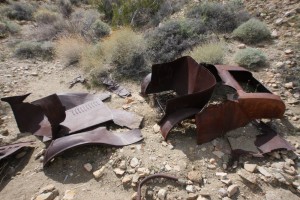 Above are pieces and parts  found up a wash near Cottonwood Springs in Johsua Tree National Park.
We found this 1947 Dodge Power Wagon sitting out behind some buildings near Hope, Alaska. The owner said it was used for logging for 20 years before it was retired. It surely deserved retirement as there is not a panel on it that is not beat up. The owner said he had started the engine a few months before these pictures were taken. The Dodge Power Wagon was based on a WWII truck and has a real reputation for toughness. This Dodge Power Wagon worked in the Alaskan lumber industry and still runs.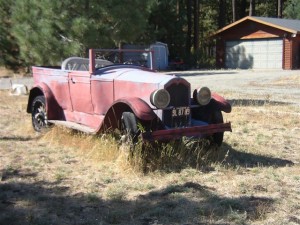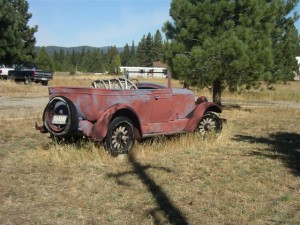 The photos above were sent to us by Butch in Truckee.   He came across this roadster one day while riding his bike.
This Nash is sitting on the north side Highway 62 at a car repair shop in Yucca Valley.  It's for sale.  Watch out for the junk yard dogs.
These photos were sent to us by Pat in Palmdale.  This nice old Lincoln is in the LA area and could be made beautiful again.
<
The two photos above  are of a T roadster in Joshua Tree National Park next to an abandoned and collapsed homestead. Most likely this was the site of a mine during the 1930′s.  The park contains numerous abandoned mines. The Park Service would be very annoyed (i.e. a federal offense) if this 'artifact' disappeared.
The photos above show cars resting in Joshua Tree National Park at the former 'ranch' of one of the Park's most notable miners and ranchers. These vehicles, and a lot of mining equipment, were left behind.  Tours of the ranch are given by the Park Service but the ranch is not otherwise open to the public.